Apartments in Rome with Internet access - Page 10 of 10
Area: Trastevere, Rome
The Property
This cozy studio for rent in Rome is located in Trastevere. It's tastefully furnished and decorated, with a warm feeling transmitted by the parquet floor and the wooden ceilings.
After the entrance, there is the kitchen, complete with all necessary cookware needed to prepare […]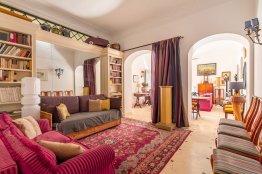 Area: Piazza del Popolo, Prati, Vatican, Rome
This very elegant and fully furnished Rome apartment is strategically situated in the heart of Rome.
This fully air-conditioned, 170sqf Rome apartment offers three spacious bedrooms. The bedrooms all have a queen size bed and numerous closets. With these, you can forget about your luggage and make yourself […]