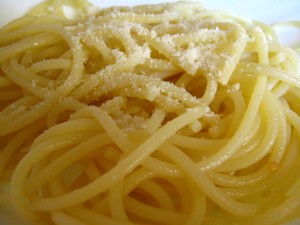 "My final, considered judgment is that  [garlic] blesses and ennobles everything it touches – with the possible exception of ice cream and pie." – Angelo Pelligrini

"Young women of rank actually eat — you will never guess what — garlick! Our poor friend Lord Byron is quite corrupted by living among these people, and in fact, is going on in a way not worthy of him."                   – Percy Shelley, in a letter from Naples

"There are manymiracles in  the world to be celebrated and, for me, garlic is the most deserving." -Leo Buscaglia
The poet Shelley was not the only man of his time to associate garlic with vulgarity. In England and the United States the fragrance of garlic was aligned with the lower-class immigrant families until somewhat recently. While garlic enlivens a dish and does all sorts of wonderful things for the immune system, it does all sorts of interesting things to the breath.
However we are now in the 21st century and garlic has been embraced on non-Italian soil. In Italy, garlic is still popular and is routinely thrown into pasta and meat dishes as an accent. In Spaghetti all'aglio e olio, the garlic is the star of the meal. While this might not be the best choice for a romantic date it's a wonderful option for a quick and tasty meal at home.
Spaghetti all'aglio e olio is a pasta in bianca,  meaning that the sauce contains no tomatoes. This variation includes a small bit of hot pepper – making it technically spaghetti all'aglio, olio e peperoncino. The hot pepper can be left out for those with sensitive palates and fresh parsley makes a lovely addition for a touch of freshness.
You'll find this simple and delicious dish in most trattorias and it's cucina povera at its best. Like so many Roman recipes, it takes less than 20 minutes to throw together and only dirties 2 pans. What I especially love about this version is that the garlic is discarded so you finish with a fragrant, infused oil but no crunchy garlic grenades to distract from the pasta.
Spaghetti all' aglio e olio (e peperoncino)
Ingredients:
Coarse-grain salt
3 cloves garlic, sliced
1/2 tsp. chopped dried hot peppers or red pepper flakes
1/4 c. olive oil
1 pound spaghetti
freshly grated pecorino romano or parmigiano-reggiano
Directions:
Bring 4 quarts of water to a boil, adding a small handful of coarse-grain salt just before it boils.
Heat the olive oil in a wok or large skillet. Add the garlic and hot pepper. Saute on low-medium heat for 3-5 minutes, removing from heat if the garlic begins to brown. What you want is for the garlic flavor to infuse the oil so the longer it stays in the oil the better. At the end of cooking remove pan from heat and discard garlic (you can also discard the hot peppers if you want only a slight hint of heat).
Cook the spaghetti in the boiling water for 1 minute less than the package recommends. One minute before the spaghetti is completed (2 minutes before the package recommends), return the pan with oil to the stove over medium heat.
Drain the spaghetti and add it to the oil. Toss thoroughly over heat just long enough to coat all of the noodles, then turn off heat. If more oil is needed, add it. You want every noodle to be slickly coated with oil, but not swimming in it.
Serve immediately with lots of freshly grated cheese.