My first mouthful of bucatini all'amatriciana was at a small restaurant tucked away on the cobblestone streets of Trastevere. I was exhausted and drenched from the rain when I spotted a trattoria with cheery little lanterns on every table. On that first cold day of autumn the peppery pasta warmed me through. When well-executed it's the kind of satisfying dish that makes you want seconds, thirds, even fourths. To my mind, there is no better introduction to Roman cuisine.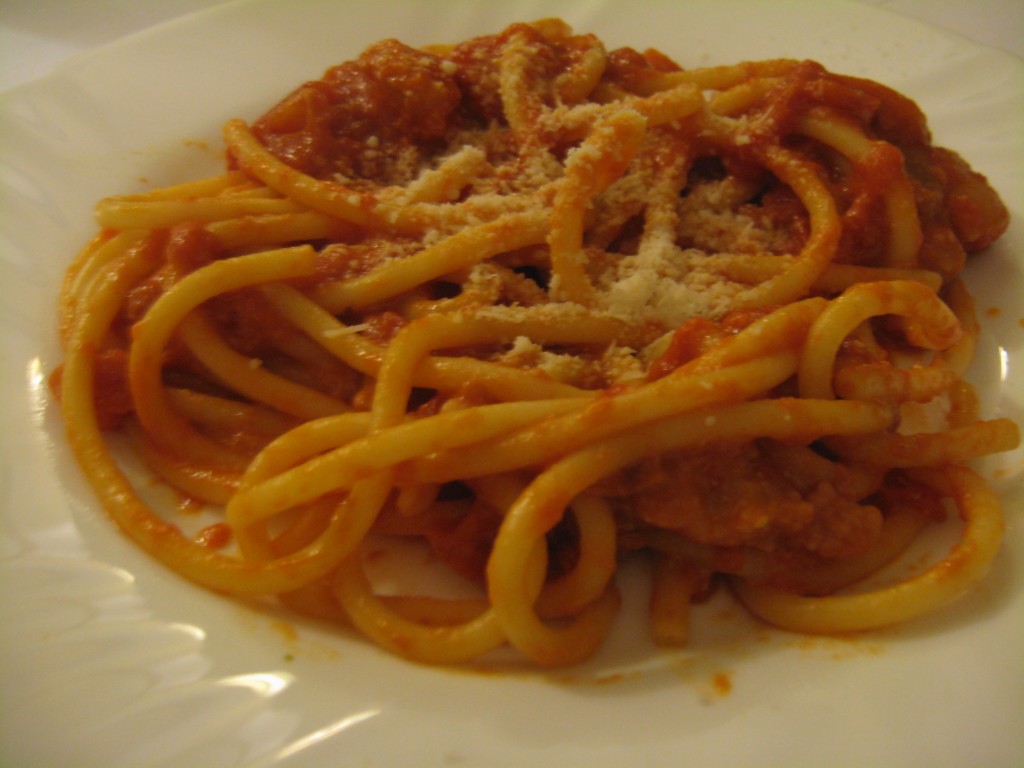 Bucatini all'amatriciana is an ode to simplicity – rich smoked pork, sweet tomatoes, heat from chili peppers, and the sharp, salty kick of pecorino cheese. Because amatriciana is a classic dish it has a long history and because it is Italian, this history is controversial and hotly disputed. Most but not all agree that "amatriciana" comes from Amatrice, a tiny town in the mountains bordering Abruzzo about 100 miles from Rome. (Some Romans claim that the dish is truly alla matriciana, developed by Romans and that Amatrice has nothing to do with such culinary bliss). Most agree that the dish descends from gricia, a pasta dish made with pepper, cheese, and smoked pork jowl, also known as guanciale.
Bucatini all'amatriciana has a different flavor profile than most Italian pasta. In its purest, most classic form the sauce has only four ingredients: cured pork, tomatoes, cheese, and hot peppers.  Because of the recipe's poor origins (this was the dish of shepherds, not statesmen), there is traditionally  no onion, no garlic, no herbs. Because of this it tastes wildly different from the familiar Italian-American tomato sauce served with spaghetti and meatballs. The modern Roman version often adds onions, garlic, or a splash of dry white wine. Best of all it comes with bucatini, a kind of pleasantly plumpened up version of spaghetti that has an irresistible spongy surface to soak up the sauce.
I spent a few weeks playing around with the recipe, throwing in the onion and garlic you see often in the Roman version, substituting pancetta for the classic guanciale. I tried Marcella Hazan's version with butter and olive oil but it tasted of northern Italy, not Rome. I tried the recipe from Mario Batali – it was filled with the lively flavors of herbs, carrots and garlic, a scrumptious dish but not the one I was seeking.
In the end I found a recipe summing up the best of amatriciana – simple, just enough contrast between the ingredients to bring out their best. The onion you find in Roman versions is included adding a satisfying textural crunch but the garlic is absent.
Because of amatriciana's simplicity, making it in Italy is easy. You go to the butcher, ask for un etto (100 grams) of guanciale, buy a few cans of tomatoes and you're in business. In the States it is a bit more complicated. If you are fortunate enough to live in a large city near a fine Italian or imports grocer, you may be able to find guanciale. It is also available through a number of online vendors, such as AgBASE or Zingerman's. Cut from the pig's jowls, guanciale has a high fat content that gives the simple pasta a luxurious depth.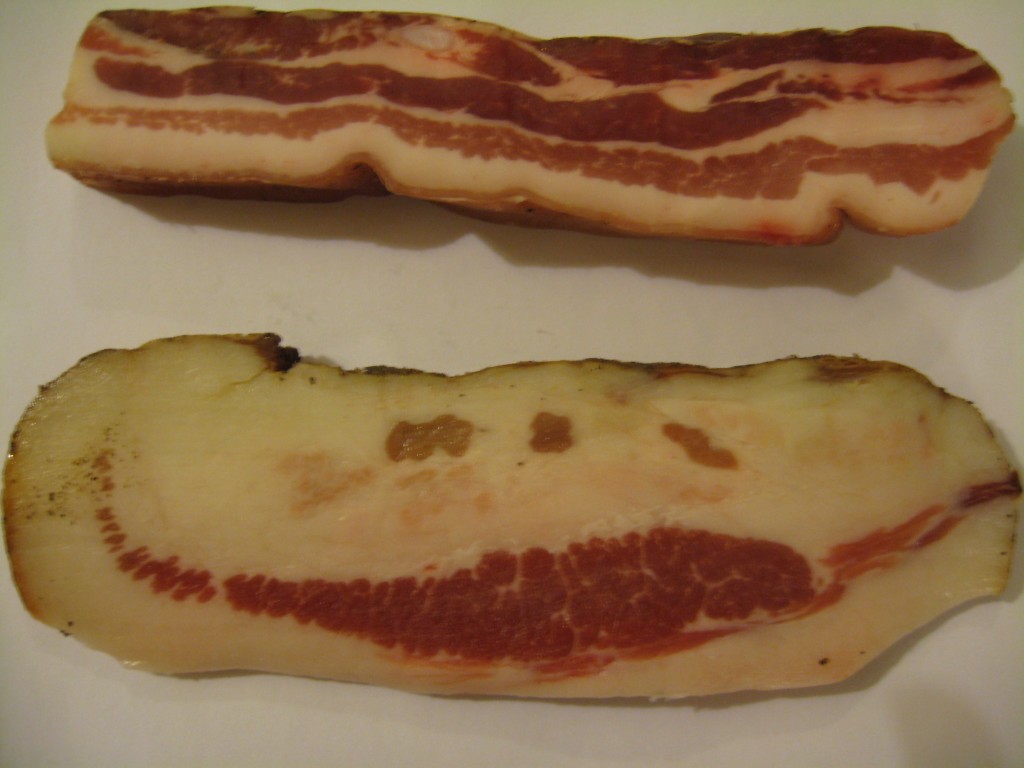 If guanciale is unavailable, pancetta is a fine substitute. However as you can see in the photo above, guanciale (shown bottom) has a significantly higher fat content than pancetta (shown top). If neither guanciale nor pancetta is available in your neighborhood, you can always use a top-quality lean bacon. The ever-knowledgable Patricia Wells suggests blanching bacon for one minute in boiling water to remove some of its smoky flavor. If substituting either pancetta or bacon, I would recommend adding an extra tablespoon of olive oil before sauteeing the onion to compensate for the lower fat content.
Ingredients
8 oz. bucatini or spaghetti
1 T. olive oil
100 g or 3.5 oz. guanciale or pancetta (about ¾ cup diced)
100 g grated pecorino romano (about ½ cup)
1 yellow onion, diced
1 14 oz. can Italian plum tomatoes
½ tsp. hot pepper flakes, or more to taste
Directions
1. Place a large pot of water to boil. Put in a small handful of large-grain salt.
2. Dice the guanciale into medium pieces, cubes of about 1/2 inch. Be wary of dicing the meat too small, if so it will be easier to overcook and you're aiming for tender rather than crispy.
3. Sautee the guanciale and hot pepper in the olive oil in a pan over medium heat. As soon as the fat becomes translucent, remove the meat and set to drain on a paper towel.
4. Add onions to the rendered fat and sautee, stirring constantly, until translucent. Add the tomatoes and the guanciale. Simmer on low heat about 5-10 minutes.
5.When the water comes to a boil, add the pasta. Traditionally you use bucatini or spaghetti, though rigatoni is also an excellent partner for amatriciana. Cook the pasta 1 minute less than the package states. Drain the pasta and add it to the pan with the sauce. Toss with the sauce and add the pecorino romano, stirring constantly so that the melted cheese coats the pasta. Remove from heat and serve immediately with additional grated pecorino for sprinkling on top.
Serves 4 people who are also eating a side salad, 3 hungry people, or a famished couple who skipped lunch.