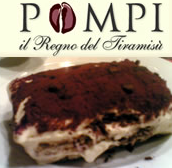 Re di Roma is a residential neighborhood of Rome that sprung up in the second half of the 20th century, long after the Colosseum or Trevi's Fountain. Linea A of the Metro stops here and the streets have tall concrete buildings filled with small, affordable shops. Tourists don't come to this part of Rome and neither do most Romans. Unless they want tiramisu.
In my early days in Rome, I kept hearing of a mythical tiramisu place that was described with words like "heavenly," "unbelievable," "orgasmic." Finally I made it to Pompi (Via Albalonga, 7 – 00183 Rome, Italy – Phone: 06 7000418), only about 2 minutes from the Re di Roma Metro stop. It was so good I went back twice that week.
Bar Pompi's entrance makes it seem like a normal café but inside is a sprawling back room that is always packed. Outside young Romans crowd the entrance and cars double park as their owners run in to take some of the famous tiramisu home.
Tiramisu is by Italian standards a young dish, popping up sometime between the 1960s and 1980s, just like the neighbourhood of Re di Roma. The tiramisu at Pompi comes in several flavours – classic, strawberry, mixed berry, banana and dark chocolate, or nutella. The classic remains my favorite but many of my friends advocate the nutella.
When creating a nutella tiramisu based on that of Pompi there were two key differences from the tiramisu recipes I had made in the past: first was the (obvious) addition of nutella. The second is the substitution of whipping cream for part of the mascarpone. The tiramisu at Pompi has a light texture, more fluffy than custard-y, and cream is essential to this.
TIRAMISU ALLA NUTELLA
Ingredients:
4 eggs, separated
1/4 c. sugar
1 c. coffee
100 g. nutella
8 oz. (225 g.) mascarpone
1 c. whipping cream
1 pack Pavesini cookies or other ladyfingers
Directions:
1. Beat the egg yolks with 1 T. of the sugar with electric mixer until thick and pale yellow, about 3 minutes. Add mascarpone and beat until creamy, 2-3 minutes.
2. Divide mixture in half.
3. To one half of the mixture add 1/2 cup nutella. Blend until incorporated.
4. Beat 2 T. sugar into the non-nutella egg yolk mixture.
5. In a separate bowl beat the whipping cream with 1 T. of sugar until it forms stiff peaks. Divide in half and fold into the two yolk mixtures.
6. In a separate, clean bowl beat the egg whites to stiff peaks. Again divide in half and gently fold into the two mixtures. You should now have two creams, one a pale brown and the other a light yellow.
7. Dip the ladyfingers into the strong espresso and line the bottom of a glass casserole or serving dish. Spoon over half the nutella mixture, than half the cream mixture. Arrange another layer of soaked ladyfingers on top of this. Spread the rest of the nutella cream and then the rest of the plain cream. Dust with unsweetened cocoa and garnish with chopped hazlenuts.
Buon appetito!