Stracciatella is one of the most classic dishes of Roman cuisine yet you hardly ever see it on a trattoria menu. Why? One Italian friend claimed you should only eat it at Christmastime. Another said that his mother ate it weekly as a child but now preferred pasta or other richer dishes. It is considered  "cucina povera," poor food that is made by housewives instead of enjoyed in restaurants. Which is a shame because it's a tasty and healthy alternative to pasta for a first course.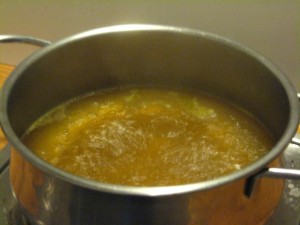 Stracciare in Italian means "to tear." Chocolate chip ice cream is known as "stracciatella" because of the bits of chocolate scattered throughout. At trattorias you can order beef "stracciata," bits of steak sliced thin into small slivers. In this recipe, "stracciatella" refers to the bits of egg (stracciate) that are found throughout. When you have a cold stracciatella warms you from the inside and fills the house with a lovely smell.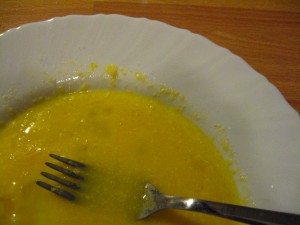 The ingredients are few: eggs, broth, parmesan cheese, and breadcrumbs. Because the ingredients are so few I encourage you to choose the best possible. If you happen to have some homemade broth, this is a great way to use it. Grate the parmesan yourself rather than buying it pre-ground in one of those green aluminum tubes. After all for a meal that takes only 20 mintues and 2 dishes, you can spare a little extra effort.
STRACCIATELLA
Ingredients:
1.5 qts broth
3 eggs
3 tablespoons grated parmigiano-reggiano cheese, plus more for garnish
3 tablespoons breadcrumbs or semolina flour
Nutmeg
Directions:
1. Heat the broth to boiling, first setting aside about 3 tablespoons of the broth.
2. Beat 3 eggs in a bowl. Add grated cheese and bread crumbs/ semolina.
3. Add the reserved, cool 3 T. of broth and beat until creamy.
4. Pour this mixture into the boiling broth. Whisk vigorously with a fork to break up the egg into small strips. Cook for about 3 more minutes, stirring continuously.
5. Remove from heat and immediately place in bowls. Sprinkle with more parmesan and freshly grated nutmeg.
Buon appetito!