Get to know what people are looking for in your site!

Discover which keywords your site visitors are googling to reach your site. Build automatically a tag cloud based on realtime usage data, not on the tags that you╩ THINK are appropriate.
No manual tag entering necessary.


Customizable like a text widget. Easy as 123.
Fully customize the tag cloud links and keywords. Ban inapproriate keywords with one click.
Yes, let me try it!
>> DOWNLOAD keywords-cloud plugin
How does it look like?
Here on the right column, a live eample of two of the widgets introduced by this plugin. The first is the All Keywords widget which displays all site keywords. The second widget allows you to display only keywords used to reach the actual page (/post). Another one (Navigational) , includes all keywords but those regarding the current page.
Keywords are scaled with an intelligent algorythm, most popular being obviously bigger.
Furthermore, you can change a keyword's "importance", matching your desires.
Instructions for use:
Just activate the plugin, place one of the three available Keyword widgets in your sidebar, and wait for the first visitor coming from a search engine. You will╩ see the first keywords grow in your sidebar widget! Try to find╩ your own site on Google looking for a keyword you know you rule, and watch the cloud grow….
FAQ:

Why I see nothing in place of this widget in the sidebar?
Because keywords will only be generated when╩ somebody visits╩ your site from search engines.
How to customize the tag cloud?
Logged in users will see two special links close to the tag cloud.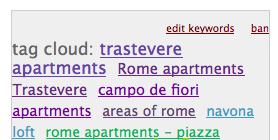 Those links allow you to edit and ban keywords. Very easy to use, very powerful tool. You can make a keyword look bigger or smaller, anche change it's target URL. You can even target external╩ sites.
Have a look: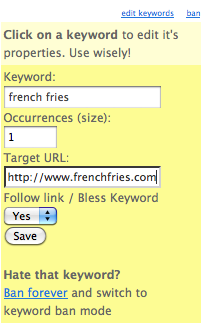 What about the number of╩ displayed keywords and the size?
There are many hidden features that you can tweak, just have a look at row 16-18 and tweak slowly

We have put a lot of effort in developing this plugin.
Comments & support
We would love to hear positive comments at this email: plugin at romeloft dot com
We do not have time to customize this for you. The plugin is provided for free and is not (yet) supported, but has been reported stable enough to run on all blogs.