Rome apartments for rent in the city center
Find Your Apartment in Rome
Find an accommodation in the most central areas of Rome, the "Centro Storico", Rome's historic center
Getting around in Rome can sometimes be a challenge. Opting for a city center apartment will save you a lot of time. With so many beautiful things to see, you will enjoy that extra time to stay just a little longer by the Trevi Fountain or up the Spanish Steps!
To make the most of your Roman holiday, take a look and choose from one of these delightful areas of the Eternal City. They are all charming in their own special way.
You cannot go wrong as these are the most beautiful and sought-for areas of Rome, mostly at walking distance from the greatest attractions of the Eternal city.
Enjoy Rome as the romans do

Enjoy your Roman holiday in the comfort of your own furnished residence. Feel like a local! Enjoy more privacy and freedom choosing us instead of an ordinary Rome hotel. With our spacious furnished apartments, there is little reason to choose a hotel room.
The best value for your money
Our guests always become our friends. We are your reference in choosing a dream accommodation in Rome, whether you are looking to rent an apartment, a studio, a penthouse or a loft.
Top Last Minute Offers
The offers are valid for stays ranging from the 16th January 2019 until the 23rd January 2019

From 625 € / night
-13% discount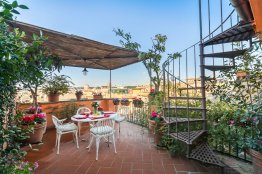 Area: Pantheon, Piazza Navona, Trevi fountain, Rome
Spread across the top 2 floors of a classic Roman building, this spacious Rome Pantheon penthouse is the ideal home away from home.
You will be able to get to the apartment thanks to an elevator but to reach it there are about 10 steps […]

From 105 € / night
-13% discount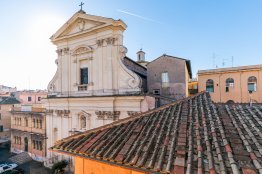 Area: Trastevere, Rome
You will fall in love with this gorgeous, charming and sunny flat in Rome. This delightfully warm attic apartment has not one, but two lovely terraces on Via della Scala.
The apartment also boasts a wonderful view over the rooftops of Trastevere. You can find it in a recently-renovated […]