Breakfast Menu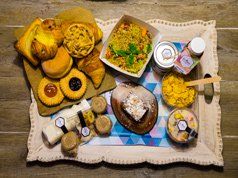 Whether you're looking for a daily breakfast at your home away from home or a special treat during your stay, discover our delicious Italian breakfast basket. Containing a fresh loaf of bread, a 250g pack of Italian coffee or tea, 1 jar of jam, a pack of cereal and 1 liter fruit juice, you can order online directly from the apartment. Our specially designed menu is ready to be delivered to your doorstep. Follow the check-out stage, selecting the apartment you are staying in, in the "Homestay" drop down menu. Alternatively you can also find the link on your confirmation email.
Dinner basket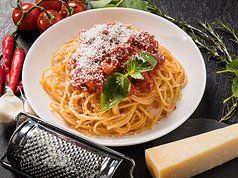 Don't feel like going to the restaurant on your first evening in Rome? Romeloft has the perfect solution for you: an easy way to make delicious plate of pasta!
Our dinner basket includes a package of high quality Garofalo spaghetti, a bottle of rich olive oil from Umbria and a jar of homemade sauce by Al dente la salsa. This renowned gourmet house makes succulent sauces with only the finest, freshest, ingredients, all of Italian provenance. Your pasta dish will be an absolute delicacy.
Gift idea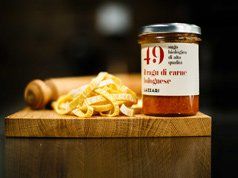 Already longing for the mouth watering plate of pasta you had on your first night in Rome? Why not bring home a couple of Lazzari Food sauce jars!
Or you can also offer them as a lovely souvenir of your Roman holiday to your friends. A savory gift box with two jars, classic yellow tomato sauce tuna and typical flavorful roman Amatriciana, is a fantastic souvenir. All you have to do is ask!
Fan of the Roman cuisine?
Read Roman Recipes: our blog about Roman food and Italian Cuisine