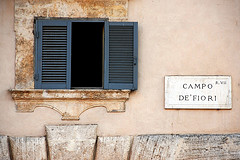 Famous for the episode of the philosopher Giordano Bruno who died flared on the stake due to the Catholic Inquisizione' s charge of heresy on the 17th of february 1600 d.C. Today Campo de' Fiori is the site of an odd market with a typical atmosphere. Campo de' Fiori represents one of the places where Rome shows with most transparency its pure character.
Campo de Fiori: The open-air market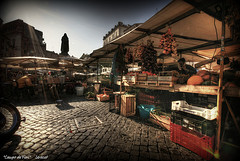 From the early morning with its open market, with its counters of fruits and vegetables, with its coloured flowers and its unmistakable fragrance of bread and pizza just taken out of the oven from the "craftsmen" of "Forno Campo de' Fiori". Just close to Campo de fiori square, which is the best area of Rome, there is one of the most important sites of the eternal city, Piazza Farnese,  where you can see and visit the marvellous 'Palazzo Farnese', which is nowdays the French Embassy. But remember: the Embassy can be visited only every 14th of July, on the occasion of the seizure of the Bastille, therefore if you're visiting Rome in summertime don't miss this wonderful opportunity!
Campo de Fiori by night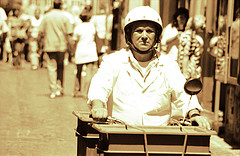 During the night, the square turns into a place for meetings and entertainment for young people. The area, in fact, is full of restaurants, outdoor cafes, nightclubs, cinemas and theatres among the best of the city. Among the restaurants, we advise you "La Carbonara", for its strategical position in Campo de' Fiori and of course for its typical Roman cookery; "Ditirambo", in Piazza della Cancelleria, for its more refined cuisine; "l'Osteria del Pesce", in Via di Monserrato, for the lovers of ichthyic products; "Roscioli", in Via dei Giubbonari, "Bric", in Via del Pellegrino, and "Cul de Sac" in Piazza Pasquino for who loves a snack based on French cheeses, good cold cuts, and much-sought products.
Cinemas and theatres in Rome, Campo de Fiori area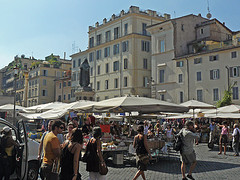 Among the cinemas, we suggest the Cinema Farnese, in Piazza Campo de' Fiori, for the screening of art films; the cinema Augustus, in Corso Vittorio Emanuele II, for commercial films. Among the theatres, we remember the site of Argentina Theater, in Largo Argentina, and of Valle Theater, in Via del Teatro Valle. Campo de Fiori is the ideal place where to start to enjoy Rome, actually all our Rome apartments located in this area are perfect for a wonderful journey.
Accommodation in Campo de Fiori
Romeloft.com can offer you  enchanting and cozy  apartments in Campo de Fiori, ideal accommodation for who wants to discover Rome from its heart.
Campo de Fiori apartments for rent >
Campo de Fiori video by Romeloft.com
Campo de Fiori Map with restaurants, groceries & cafes

View Campo de Fiori Rome Map in a larger map
Restaurants:
'Ar Galletto' Piazza Farnese 102, tel. +39.6.6861714. 35.00 € for a meal (credit cards accepted). Open air tables. Very famous and typical roman restaurant. We advice the 'fettucine with radicchio rosso' and the artichoke!
'Taverna Parione' Via di Parione 38, tel. +39.6.6869545. 20-35.00 for a meal. Air conditioning. Very classic roman cuisine.
'Da Baffetto' Via del Governo Vecchio 114, tel. +39.6.6861617. 10-12.00 for a meal, credit cards accepted.The most famous pizzeria in the historical center of Rome.
'Lucifero'Via dei Cappellari 66, tel. +39.6.6873462. Closed on Monday. 35-45,00 € for a meal, some credit cards accepted (except DC). This place is highly recommended in winter time since its best dishes are: hand made pasta with white truffles , the french bourguignonne and the marvellous 'Scamorza with ham'.Air conditioning.
'Pierluigi' Piazza dei Ricci 144, tel. +39.6.6861302. Closed on Monday. 35-45,00 € for a meal (credit cards accepted). Air-conditioning , open air tables. This restaurant propose you a quit good selection of sea-dishes.
Wine bar:
'Teste Matte' Piazza Campo de fiori, very nice happy hour with a friendly athmosphere and a pleasant service
'L'Angolo Divino' Via dei Balestrari 12, tel. 39.6.6864413. Closed on Monday. Thousands of choices among Italian and international wines, good cuisine.
'La vineria' Piazza Campo dei Fiori. Open from 7 pm to 2 am.
'La Taverna' Piazza Campo dei Fiori 36. Open from 8 pm to 2 am. Closed on Monday.
'Antico Caffé della Pace' Via della Pace 4/7, tel. 066861216. Open from 9 am to 2 am. Very trendy cocktail bar since many years; and tea room, meeting place for intellectuals and artists.
Cinemas:
Cinema Farnese Piazza Campo dei Fiori 56, tel. 066864395.
At night:
'Bar della Pace' Piazza della Pace 51/53, tel. 066861341. Open from 8 pm to 2 am. Pub, italian cuisine, and international cocktails.
'La Maison' via de Granari 4, one of the 'cool' place in the historical (disco music).
'Femme' Via del Pellegrino 14, tel. 066864862. Open from 6 pm to 2 am. Closed on Sunday and Monday. Disco pub with three rooms : cocktailbar, disco, lounge .
Shari Vari. Via di Torre Argentina 78 (Via De' Nari), Roma, RM 00186.   Very beautiful disco located few meters away from the 'Pantheon'. This stylish disco is recommended for whom wants to enjoy Rome by night. Three rooms with different music, mainly RnB, House, Tech-house.
International Bookstore:
'Feltrinelli' Largo di Torre Argentina 11, tel. 0668663001. Open Mon-Fri from 9 am to 9 pm, Sat from 9 am to 11 pm, Sun from 10 am to 8 pm. Also music and DVD store.
'Fahrenheit 451' international bookstore Piazza Campo de Fiori 44, 10-13.30 am 16-24.00 always open
Market places:
Campo dei Fiori food market is the most charming, expensive and well known of the city center. Open from 7 am to 2 pm. Closed on Sunday.
Supermarket-alimentari:
'Despar' Via Della Moretta 10. Open Mon-Sat from 8 am to 9 pm, Sun from 9 am to 9 pm.
'GS' via Monti della farina 186 Open Mon-sat from 9 am to 8 pm. Sunday closed