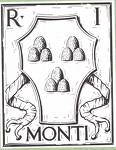 Monti is the name of one of the twelve Rioni of Rome, rione I; the name literally means mountains in Italian. The name comes from the fact that the Esquiline and the Viminal hills, and parts of the Quirinal and the Caelian hills belong to this rione.
On its logo there are three green mountains with three tops on a silver background. Nowadays the districts Esquilino, Castro Pretorio and Celio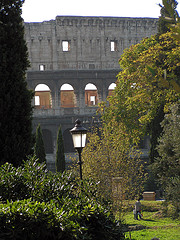 do not belong to that anymore, but it has kept its former name.
In ancient times the rione was densely populated: in Monti there were the Forum Romanum and the so called Suburra (meaning suburbs in Latin): this was the place poor people lived, full of disreputable locals and brothels. In the Middle Ages the situation was completely different: the Roman aqueducts were damaged, and it was very difficult to bring water to Monti, since it was on the hills. From the Middle Ages to the beginning of the 1800s the rione remained an area full of vineyards and market gardens.
The area did not become abandoned thanks to the church of San Giovanni in Laterano and the huge number of pilgrims coming continuously. Still in the Middle Ages the inhabitants of Monti, called monticiani, developed a strong identity: in fact their Roman dialect was different from that spoken in the other rioni.
Their main enemies were the people from the other rione with a strong identity, Trastevere, and they often used to fight one against the other. Then, in the increase of urbanization at the end of the nineteenth century, the great changes of the Fascist period changed completely the appearance of the rione.
All Rome apartments for rent >> Rione Monti apartments for rent >>
Restaurants, groceries and cafe in the Monti area, Rome

Restaurants:
La Carbonara Via Panisperna 214, tel. 064825176. Closed on Sunday. 20-30.00 for a meal, credit cards accepted. Air conditioning . Classic/ typical roman cuisine, different choices of hand made pasta. La Carbonara is over 100 years old.
Il Covo Via del Boschetto 91, tel. 064815871. 35-45.00 for a meal, credit cards accepted. Air conditioning. Classic cuisine, refined atmosphere.
Trattoria LuzziA Via San Giovanni in Laterano 88, tel. 067096332. 15-20.00 for a meal, credit cards accepted. Typical Roman cuisine, also pizzeria.
La Cicala e la Formica Via Leonina 17, tel. 064817490. Closed on Sunday. 10-20.00 for a meal, credit cards accepted. Candle light, classical cuisine.
Pizzerias:
La Vecchia Roma Via Leonina 10, tel. 064745887. 25-35.00 for a meal, credit cards accepted. Pizza and typical Roman cuisine.
Le Carrette Vicolo delle Carrette 14, tel. 066792770. Closed on Monday. Approx. 15.00 for a meal, credit cards accepted. Reservations adviced.
Wine:
Al vino al vino Via dei Serpenti 19, tel. 06485803. Open from 11am to 1.30 pm and from 5pm to 1 am. 600 choices of Italian and international wines, winebar, air conditioning, garden.
Cavour 313 Via Cavour 313, tel. 066785496. Open from 12.30pm to 3.30pm and from 7pm to 11.30pm. Closed on Sunday. 1000 choices of Italian, French, German wines.
Café's:
Antico Caffé Brasile Via dei Serpenti 23, tel. 064882319. Historical roasting, different choices of coffee.
Eliseo Caffé Via Nazionale 183. CafFé inside the Eliseo Theatre.
Cinemas:
Quattro Fontane, Via di Quattro Fontane n. 23, tel. 06/4741515
At night:
Oppio Caffé Via delle Terme di Tito 72, tel. 064745262. Open from 7 pm to 2 am. American bar, restaurant, pizzeria, delightful view on Colosseo.
Shamrock Via del Colosseo 1/C, tel. 066791279. Open from 5 pm to 2 am. Irish beers and whiskies, Celtic and Irish music.
Charity Caffé Via Panisperna 68. Open from 4 pm to 3 am. Jazz live music.
International Bookstore:
Feltrinelli Via V.E. Orlando 84/86, tel. 064827878-064870999. Open Mon-Sat from 9 am to 8 pm, Sun from 10.30 am to 1.30 pm and from 4pm to 8pm. Books, DVD, VHS.
Mel Bookstore Via Nazionale 254/255, tel. 064885405. Open Mon-Sat from 9 pm to 8 pm, Sun from 10am to 1.30 and from 4pm to 8pm.
Market places:
Via Baccina market. Open from 7 am to 7 pm. Closed on Sunday.
Supermarket-alimentari:
Despar Via Nazionale 213. Open Mon-Sat from 8 am to 9 pm, Sun from 9 am to 9 pm.
Sma Piazza Santa Maria Maggiore 3.
Gs 'Di per di' Via dei SS Quattro 54