Rome Highlights
>
A Vegan Guide to Rome
---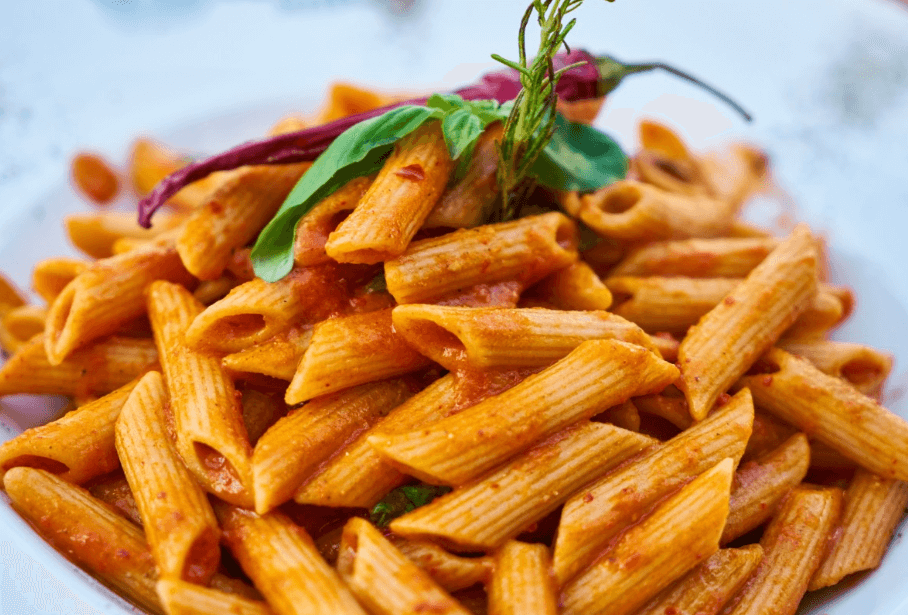 Mozzarella and prosciutto may seem to be a core component of a Roman diet – but Italian cuisine can be a lot more vegan-friendly than you might expect! We have put together an exclusive Vegan guide for you to savour all of Rome's plant-based delights. Follow our guide to discover where to find the best Vegan restaurants and cafés in Rome. Also learn from our useful tips for ordering vegan food in an ordinary restaurant so that you never miss out on the local cuisine.
Traditional Vegan Dishes
Don't avoid normal local restaurants through fear of finding no vegan options. Most places actually offer customers plenty of plant-based alternatives. After all, a large proportion of Italian dishes are based around bread, pasta, tomatoes and olive oil ! Here is a list of dishes which you can be 99% sure will be fully vegan. And don't hesitate to ask in case of doubt !
Pizza rossa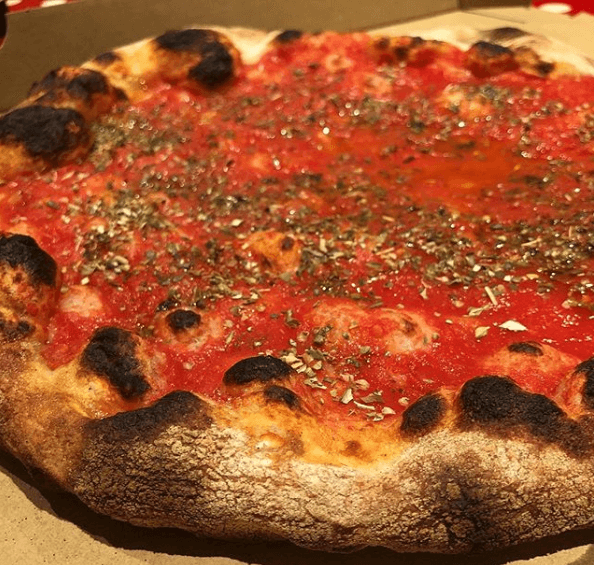 Literally meaning "red pizza", it is essentially a margherita without the cheese, often topped with basil, sometimes even with mushrooms or other vegetables. This is the perfect way to join your friends at a local pizzeria and eat a delicious plant-based pizza. Any other take away places selling "pizza al taglio" will offer plenty of these cheese-less options, without you even having to ask.
Bruschetta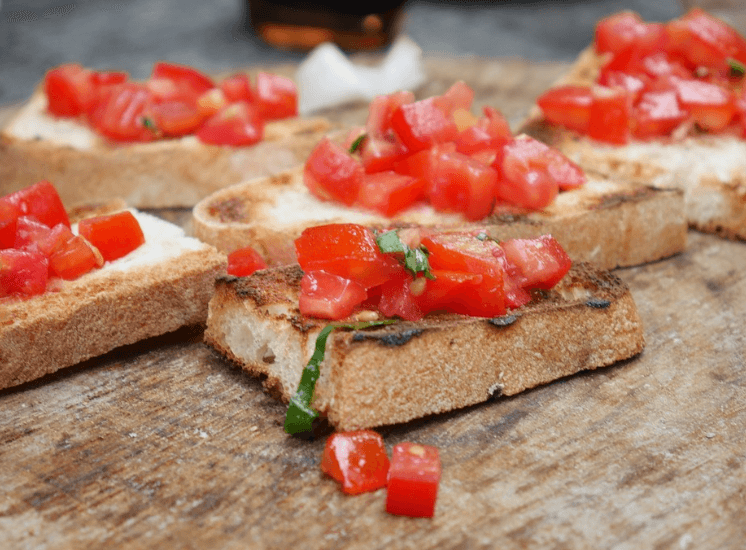 These little slices of toasted bread will come with all sorts of toppings, but classic options include olive oil and garlic or tomatoes. Great as an aperitivo, these little pieces of Italian delight are an ideal vegan snack.
Pasta al pomodoro/all'arrabbiata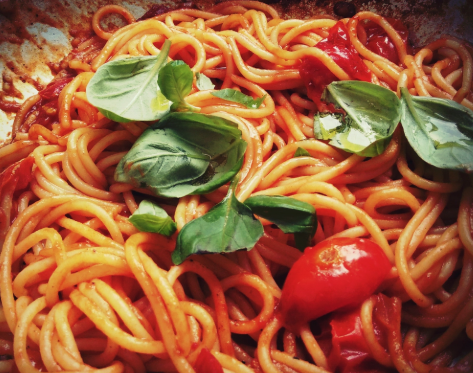 This pasta dish with tomato sauce and its spicy counterpart is a simple and sure choice. As long as the pasta is not egg-based, this is a great vegan option that you will find on most menus. The beauty of Italian cuisine is its ability to take the simplest local ingredients and make them taste absolutely amazing!
Verdure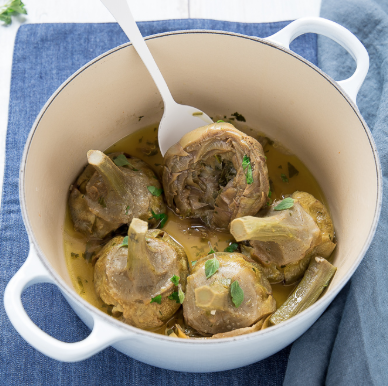 Most restaurants will offer plates of roasted vegetables. Romans aren't just about pasta and pizza! Make sure to order some "carciofi" (artichokes), a classic component of Roman cuisine.
Soy Milk Cappuccino
Despite what you may think, ordering a soy milk cappuccino is not unusual in Rome. Just ask for a cappuccino with "latte di soia" for a vegan friendly Roman coffee.
Gelato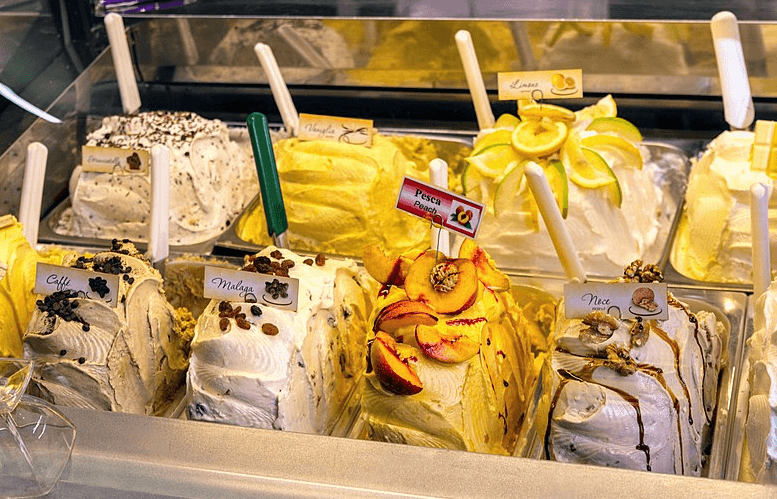 You might be surprised by how many ice cream parlors actually offer vegan ice creams. Just ask at the counter to find their dairy free corner, with plenty of delicious vegan ice creams. Il Gelatone for example has an extensive selection of dairy-free options. Other Gelaterie are fully vegan such as "Grezzo" in Monti which offers delicious vegan ice-cream and chocolate.
Vegan restaurants/shops:
Now if you wish to venture a little further this Rome vegan guide propose you some of Rome's vegan restaurants, we recommend you try the following:
Flower Burger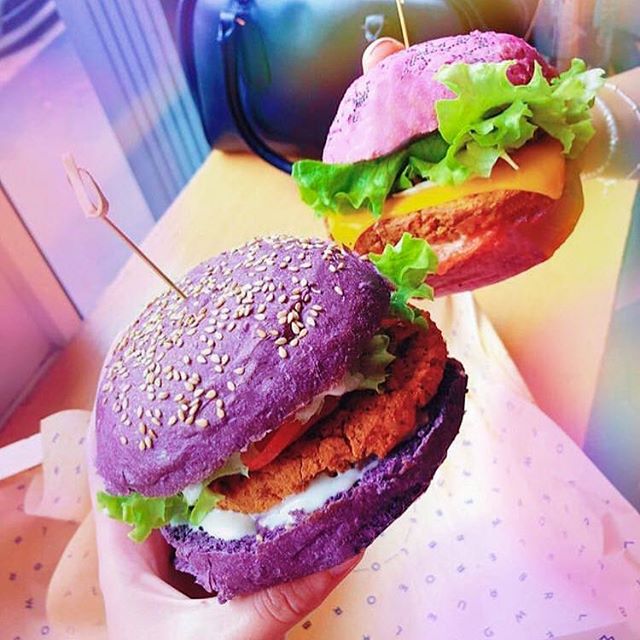 Photo from flowerburger.co.uk
As well as being fully vegan and delicious, these burgers are also extremely esthetic. Vegans and non vegans will appreciate their delicious multicolored buns that will definitely end up on your Instagram while visiting Rome… Their selection of burgers is extremely varied and rich in taste, accompanied with exquisite potato wedges. To top it off, everything is homemade and the prices are affordable. So definitely don't miss out on this small, local vegan burger joint, right near the Vatican City! Feeling lazy? Order your burger as a takeaway and enjoy it in the comfort of your Rome apartment.
Address: Via dei Gracchi 87, 00192
So What?!?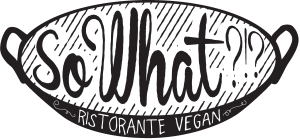 With its edgy alternative atmosphere, So What?!? takes traditional Italian dishes and gives them a slight twist. The portions are abundant, the ingredients are local and the food is truly delicious, making it one of the best vegan restaurants in Rome. Located by the Pigneto metro station, we recommend you book a table on weekends because this amazing vegan restaurant can get pretty busy!
Address: Via Ettore Giovenale, 56, 00176
Solo Crudo
Photo from solocrudo.com
With its colourful dishes, Solo Crudo is the first raw bistro of Rome. Offering a vegan raw cuisine, it is perfect for amateurs of good, fresh, nutritious food free of gluten or any animal produce. Within the historical centre, it is located just a few metres from the Castel Sant'Angelo. The staff is also particularly friendly so don't hesitate to go for lunch, dinner, or even just a smoothie.
Address: Viale Federico Cesi, 22, 00193
Ops!
This self-service vegan restaurant makes you pay by weight and offers a and top quality buffet to its customers. Their food is so varied that it is ideal for vegans and non vegans alike. We particularly recommend you try one of their delicious desserts! Less than a kilometre away from the Villa Borghese park, this vegan restaurant should definitely be on your list.
Address: Via Bergamo, 56, 00198
Vegan Store Box 83
Photo from mercatoditestaccio.it
This is not a restaurant, however it is the first ever Vegan Store in a Roman market. It sells a huge range of both basic and sophisticated vegan products ranging from food to beauty. Make sure you stop by this stall in Testaccio to enjoy vegan delights in the comfort of your Rome apartment.
Address: Via Beniamino Franklin, 00118