Rome Highlights
>
How to Plan The Perfect Rome Getaway
---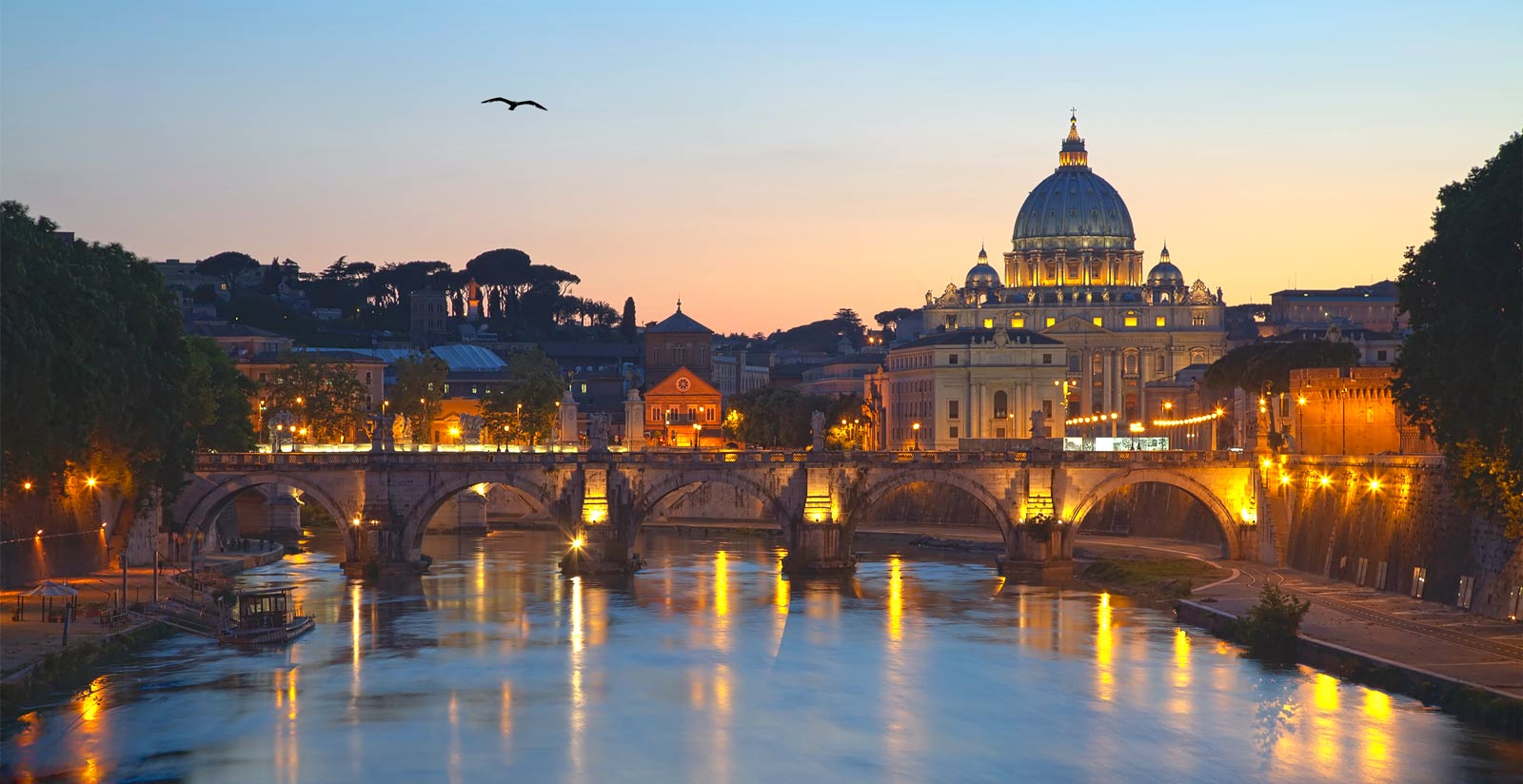 3 Getting around in Rome
3.1 Rome Metro
3.2 Rome Buses
3.3 Rome Taxis
4 Things to see in Rome
4.1 Colosseum
4.2 St. Peter's Basilica
4.3 Pantheum
4.4 Sistene Chapel
4.5 Spanish Steps
Rome is a huge city, and one of several major cultural hubs in Europe. It is also one of the most popular tourist destinations in the world, thanks in large part to its old world charm, gorgeous art, awe-inspiring architecture, and historical significance. To top it all off, Rome also features some of the best wine and food anywhere. Sounds like the perfect getaway, doesn't it?
Before you start booking a flight and packing your bags, there are a few things you should know to get the most out of your Rome vacation. Rome wasn't built in a day, and it can't be seen in a day either. So, to ensure that your trip goes off without a hitch, let's discuss how you can plan the perfect Rome getaway.
Booking a Flight to Rome
It probably goes without saying, when you're planning a trip, the most important part is making sure you can get there and back with as little hassle as possible. Most airlines offer direct flights to Rome from many parts of the United States and Europe.
If you travel frequently, you probably already know about different travel rewards plans, and might be able to save money by flying with certain airlines. When looking for a great deal timing is key. It is not only important to schedule your flight well ahead of time, but also time your trip strategically.
Generally speaking, there are two main periods in the year when airfare is at its most affordable: January-May and September-November. If you can book your flight during one of these periods (and try to book at least one month in advance), you could end up saving hundreds on airfare.
To find the cheapest Rome flights to fit your schedule, check out this link.
Finding Accommodation
Once you've gotten your flight booked, it's time to figure out where you're staying. Thankfully, at RomeLoft, we have gorgeous, picturesque accommodations for just about any budget. Nonetheless, you will need to consider several factors when choosing where to rest your head in "The Eternal City." Here are a few of the most important things to think about before you book:
Price

– Obviously, you will want to pick accommodation that is within your price range. Being on a budget doesn't mean you need to settle for low-quality. We offer a wide range of luxury lofts at reasonable prices, and we also run

special offers

on a regular basis.

Location

– For most travelers, being close to various monuments and points of interest is important, but there are other considerations as well. For example, if you need to make use of local transport, you'll want to be within walking distance of a metro or bus station.

Amenities

– When you're on vacation, you want to treat yourself. While you expect your accommodations to have all the basics, you may be searching for a few extras to improve your stay. Thankfully, RomeLoft offers several

special services

and amenities in addition to your beautiful apartments, including car transfer, luggage storage, and walking tours.

Rooms

– Maybe you're just looking for something small and cozy, or maybe you want to splurge on a lavish loft in the city center. In any case, you will need to decide how many rooms you'll need for you and your guests.

View

– Rome is full of gorgeous views, and there is nothing better than waking up and looking out over such an old and historic cityscape. While the view is not the most important part of choosing a place to stay, it can really improve your experience of the city.
If you have any questions or concerns about finding accommodations or reserving vacation packages, feel free to contact us at any time!
Getting Around
So, you've just landed in Rome and settled into your loft. Now what? Getting transportation in Rome can be intimidating, but don't stress. We'll walk you through the basics so you can save time and money!
Rome Metro
One of the fastest and cheapest ways to move around Rome is the metro. This underground train has 3 separate lines — A (orange), B (blue), and C (green) — that serve 73 stations across the city. A single-use ticket will cost you about €1.50, but there are also multi-day or weekly passes available to purchase at metro stations, or you can buy MetroCards online right here.
Rome Buses
Public buses run from about 5:30 AM until midnight, making them one of the more convenient ways to get around the city. All forms of public transportation converge at the central Termini station, so you can either catch a bus there or at one of the dozens of bus stops throughout the city. Also, there's no need to worry about carrying around extra change, as MetroCards also work for city buses and trams. If you'd like to learn more about Rome bus routes, check out this helpful guide.
Rome Taxis
The easiest way to get a taxi in Rome is to go directly to a taxi stand. You can recognize these locations by the large orange signs that say "TAXI." Unlike some other major cities, it is not as common to hail a taxi that is driving down the street. More often than not, a moving taxi will already have an occupant, so finding a nearby taxi stand is a much more reliable method. You also have the option of calling 060609 or 063570 to have a taxi pick you up (you may need to dial the country code, +39, before the phone number).
The starting fare will vary based on the time and day, but generally, fares start between €3-€6, with €1.10 per additional kilometre. Taxis are required to take credit cards, though you should always keep some cash on hand just in case. Finally, while some taxi drivers speak English, many don't, so it is best to know where you are going or have the address written down beforehand.
Seeing Points of Interest
Now for the fun part! How you decide to see Rome is entirely up to you; some people like to plan each step of their journey well in advance, while others like to let the city sweep them off their feet. In either case, it's good to know about a few of the most interesting attractions to visit. Luckily for tourists, the majority of Rome's most impressive sites reside in the city center, also known as Municipio One. So, to help you on your Rome vacation, let's take a look at a few of the best sites in the heart of the city:
Colosseum
The Colosseum is one of Rome's most impressive monuments. Nearly 2,000 years old, this amphitheatre hosted Roman emperors and gladiators. Nowadays, guided tours take you through the ruins, so that you can experience its grandeur firsthand. You can learn more about booking a tour here.
St. Peter's Basilica
This enormous church was built during the early Renaissance, and is one of the most magnificent buildings in all of Europe. With a breath-taking courtyard and magnificent architectural design, St. Peter's Basilica is truly something that must be seen to be believed. You can get more information about tours and peak visiting hours right here.
Pantheon
Originally a Roman temple, the Pantheon now functions as a church. While many buildings and monuments have deteriorated over the centuries, the Pantheon has remained largely intact, giving visitors a firsthand glimpse into the past. To find out more about its history, check out this link.
Sistine Chapel
The Sistine Chapel sits within the Apostolic Palace, where the Pope resides in Vatican City. A centrepiece of the Catholic faith, the Sistine Chapel is also well-known for its many beautiful frescos. The Chapel sees thousands of visitors every day, so you might want to book a tour ahead of time to avoid the crowds.
Spanish Steps
While it may not sound like a lot of fun to walk up steps, the Spanish Steps of Rome are surrounded by beautiful fountains, buildings, and other points of interest. The beautiful Trinità dei Monti church sits at the top of the steps, looking out over the rest of the city. This is one of the best places to enjoy the views and soak in the local culture.
Ready to book your Rome Getaway?
It's almost impossible to ignore all of the beautiful sites and experiences that Rome has to offer. Whether you want to lounge in a cafe or take a train out to the countryside, you will want to prepare for what could be the best trip of your life. To learn more about planning the perfect Rome vacation, contact RomeLoft today!