Rome Highlights
>
Rome Rental Prices for Tourists in the Spanish Steps
---
In this article:
When searching for a place to stay in Rome's Spanish Steps neighborhood, you might be surprised to find a wide variety of rental prices. Apartments range from humble one-bedrooms to high-end, fully-furnished lofts. Thankfully, there are accommodations in the Spanish Steps for just about every budget.
But how much do rentals in the Spanish Steps cost? How do these prices compare to the rest of Rome? And where can you find some of the best deals on apartments in the Spanish Steps and other Rome neighborhoods? We will answer all of these questions and more, but first let's take a look at rental prices across Rome to see how the Spanish Steps neighborhood compares.

How Much Does It Cost to Rent in Rome?
Needless to say, rent in Rome will depend on several factors, including how long you plan to stay, whether you plan to live alone or split the cost with someone else, the size and location of the apartment, furnishings, amenities, and even the time of year. That said, for single travelers and expats, you can generally expect to pay around €1000 per month, plus utilities, for a modest loft in a good area. This estimate is based on travelers who intend to stay in Rome for more than one month at a time, as rates are generally lower for long-term renters.
According to Numbeo, the average cost of rent for a one bedroom apartment ranges from €676.25 (outside the city center) to €1005.79 (in the city center). If you are looking for a place with multiple bedrooms, you can expect to pay between €1160-€1870, depending on the area. While some apartments may include utilities as part of the rental price, you can usually expect to pay more for your water and electricity usage. Utilities in Rome generally fall between €150-€200 per month.
However, these numbers only apply to long-term rentals. If you're only planning to stay for a few nights or weeks, the rental prices are significantly higher. You won't need to worry about utility costs, but the base rent will fall somewhere between €75-€400 per night, depending on several different factors.

Do Rental Prices Vary by Neighborhood?
The short answer is yes. In Rome, the location of your living space is one of the most important factors when calculating the cost of rent. Some neighborhoods, districts, and even individual streets have much higher rental prices than others. To get a better idea of how Rome rental prices vary by neighborhood, let's take a look at the data:
Average Cost of Rent Per Night in Rome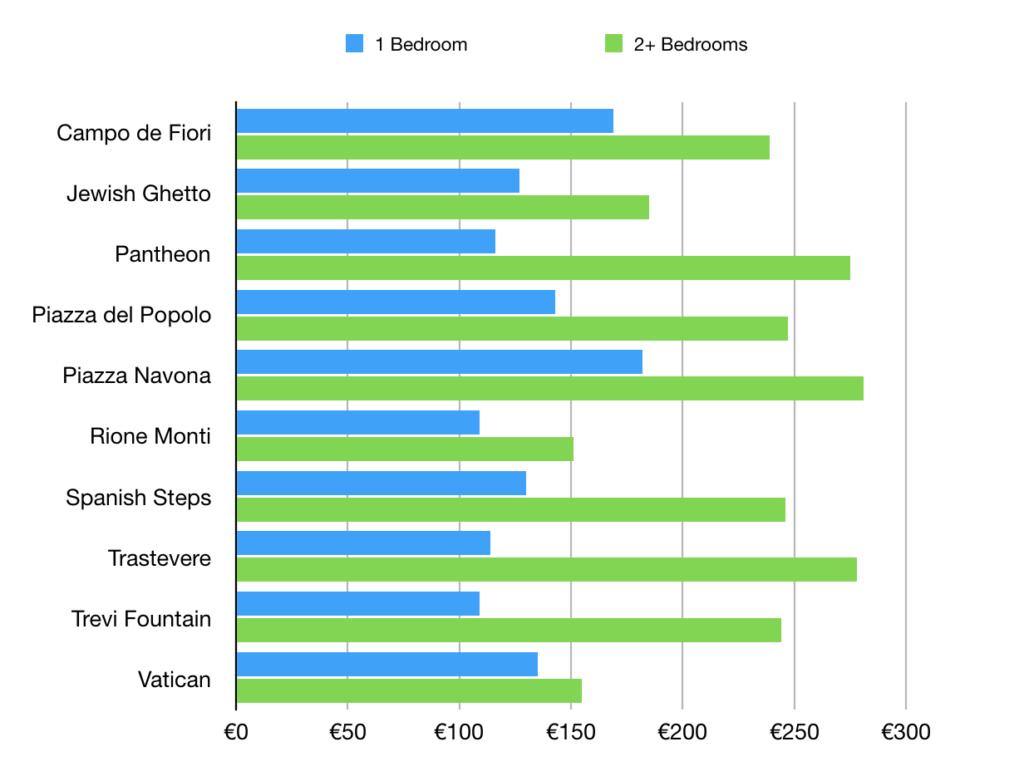 As you can see, the neighborhood in which your accommodation is located (as well as its proximity to high profile tourist attractions) can greatly impact the rental price. Rental prices also vary greatly based on the number of rooms you need. Studio apartments tend to be the cheapest, while apartments with more than one bedroom tend to average at least €200 per night.

How to Find the Right Apartment for Your Trip
Since prices vary, you will need to consider exactly what kind of accommodation you want and need for your trip. Are you traveling with a large group? Do you want an apartment on the ground floor? Would you like a building close to public transit? These are just a few questions that you should ask yourself. Additionally, here are some of the most important things to think about before you book:
Price – Obviously, you will want to pick accommodation that is within your price range. Being on a budget doesn't mean you need to settle for low-quality. We offer a wide range of luxury lofts at reasonable prices, and we also run special offers on a regular basis.
Location – For most travelers, being close to various monuments and points of interest is important, but there are other considerations as well. For example, if you need to make use of local transport, you'll want to be within walking distance of a metro or bus station.
Amenities – When you're on vacation, you want to treat yourself. While you expect your accommodations to have all the basics, you may be searching for a few extras to improve your stay. Thankfully, RomeLoft offers several special services and amenities in addition to the beautiful apartments, including car transfer, luggage storage, and walking tours.
Rooms – Maybe you're just looking for something small and cozy, or maybe you want to splurge on a lavish loft overlooking the Spanish Steps. In any case, you must decide how many rooms you'll need for you and your guests.
View – Rome is full of gorgeous views, and there is nothing better than waking up and looking out over such an old and historic cityscape. While the view is not the most important part of choosing a place to stay, it can really improve your experience of the city.
If you have any questions or concerns about finding accommodations or reserving vacation packages, feel free to contact us at any time!

While apartments near the Spanish Steps tend to be less expensive, this does not mean that they are low-quality. In fact, you can find some of the best accommodations in the city in this charming little district. But why just talk about great apartments when we can show you? To get a better idea of the amazing apartments that await you in Rome, let's take a look at a few apartments for different budgets close to the Spanish Steps.
Spanish Steps Cozy Apartment – From €130 Per Night
Some travelers don't need a spacious apartment to lay their head at night. If you prefer comfortable and moderately priced accomodations, the Spanish Steps Cozy Apartment is a great fit for you. This apartment has a full kitchen, a master bedroom, an extra sofa bed, a spacious bathroom, and a large dining area. Whether you want to host a small get together or simply need a place to rest during your Rome vacation, the Spanish Steps Cozy Apartment has everything you need.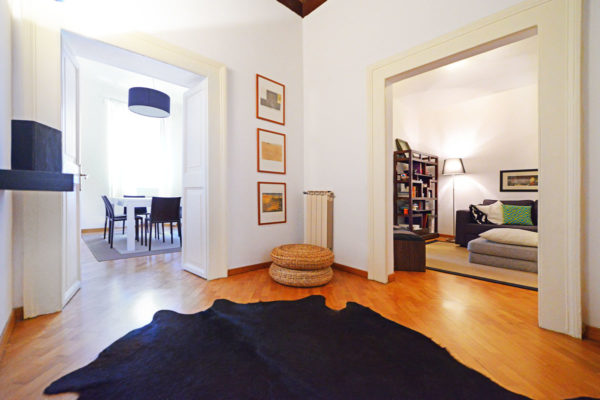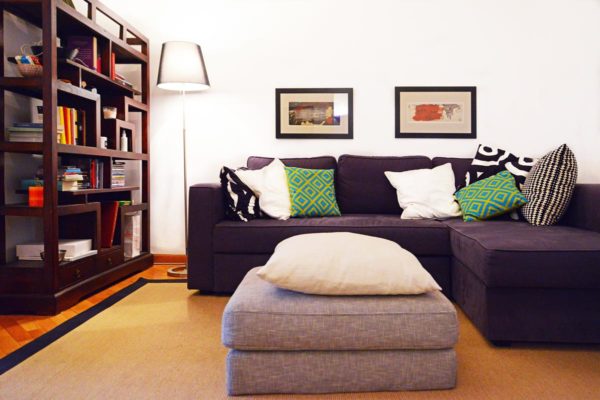 Trevi House Apartment – From €140 Per Night
The Trevi House Apartment sits near the Trevi Fountain and Spanish steps. With 5 bedrooms and a fully-furnished kitchen, this apartment is perfect for large groups or families. The Trevi House Apartment is just steps away from many great bars, restaurants, and boutiques. If you love the location, but are looking for something a little different, you can also check out the Trevi Charming Apartment, Trevi Stylish Apartment, Trevi Elegant Apartment, and the Trevi Lovely Terrace Apartment.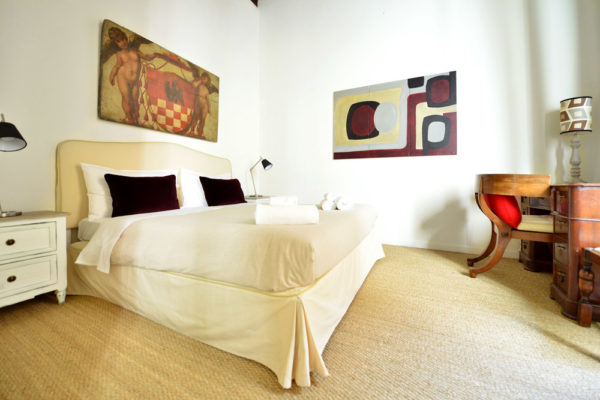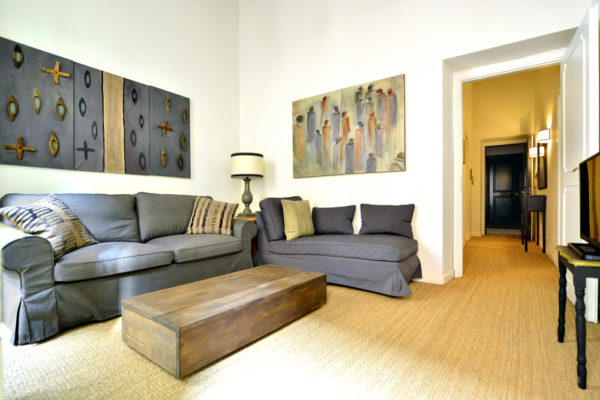 Margutta Exclusive Loft – From €230 Per Night
The Margutta Exclusive Loft is a modern luxury apartment that stands in stark contrast to the Old World architecture and style just outside its doors. While this is one of the smaller accommodations available in the area, this loft includes one king size bed and a pull-out sofa bed for an extra guest. In addition to its stylish interior design, the Margutta Exclusive Loft features a private outdoor courtyard.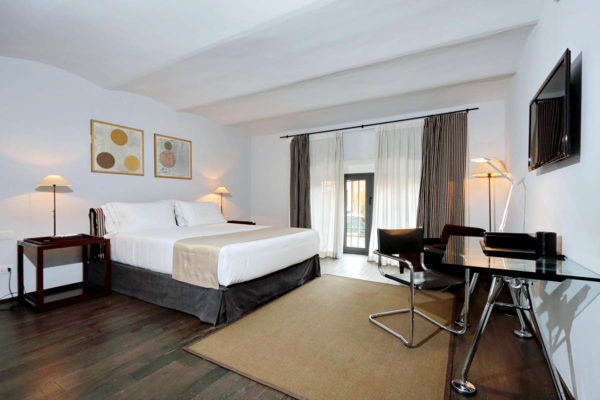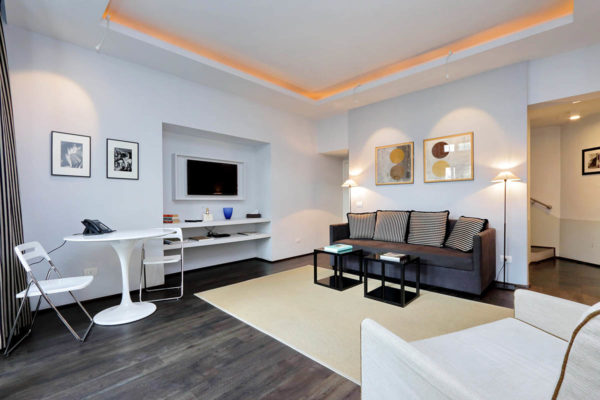 Valadier Historic Residence – From €325 Per Night
If you love to be surrounded by history, the Valadier Historic Residence is the perfect place for your next Rome vacation. The former home of an 18th-century Polish nobleman, the Valadier Historic Residence retains many of the original materials and adornments from its earliest days, including some original antique frescoes. Additionally, the residence is fitted with all the comforts of modern life, like high-speed internet, air conditioning, and a 27" TV.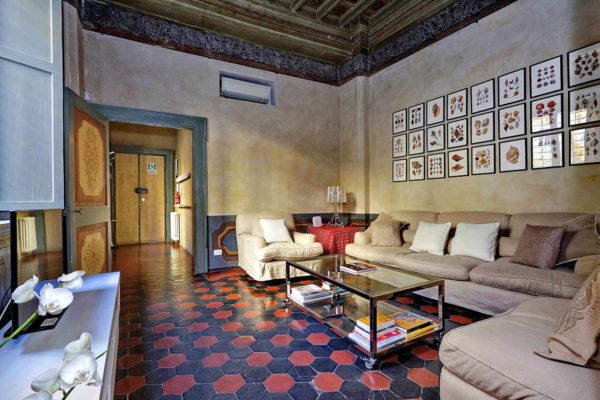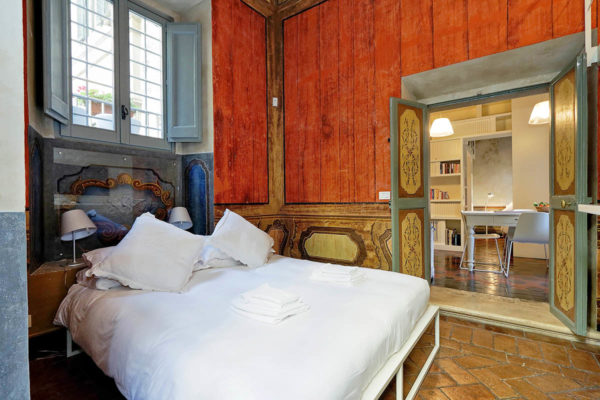 Rent an Apartment in the Spanish Steps
Are you planning your dream getaway in Rome? Do you need an apartment near the Spanish Steps for your trip? If so, we can help get your Rome vacation started right. For more information on booking an apartment near the Spanish Steps or another neighborhood in Rome, contact RomeLoft today!