Rome Highlights
>
The Best Aperitivo in Rome
---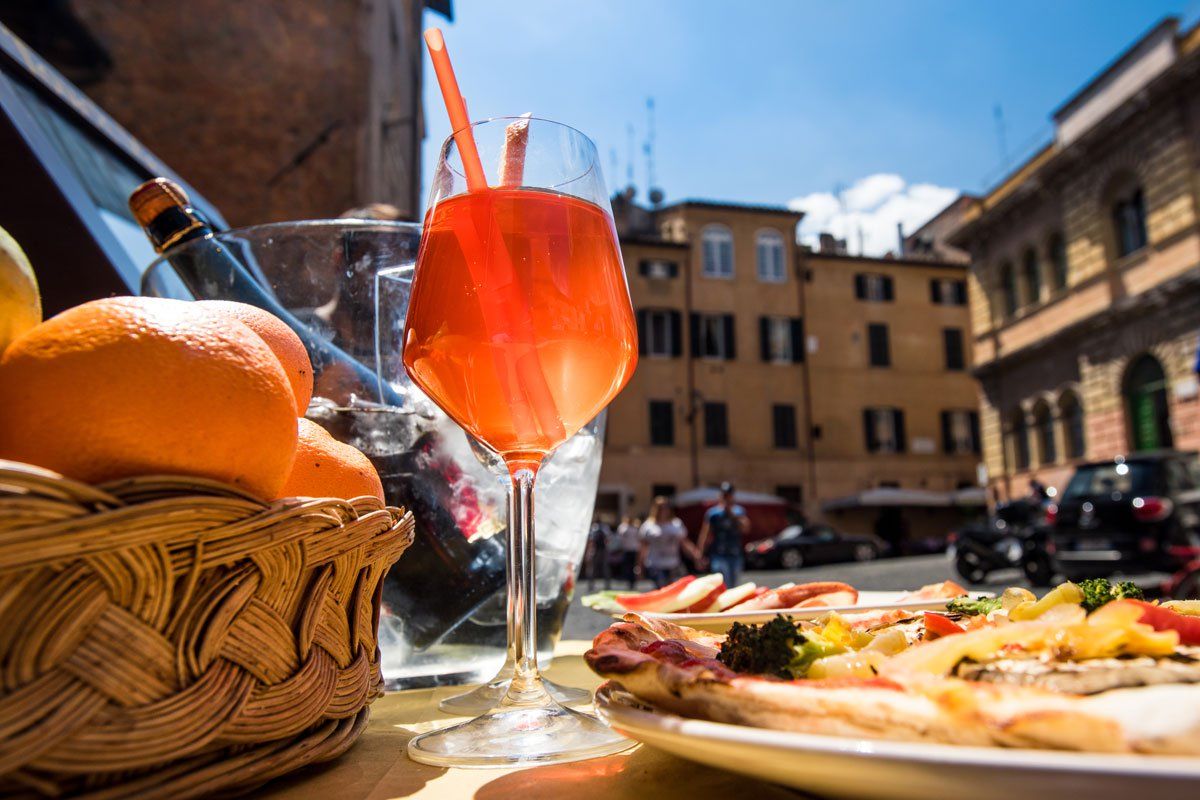 Aperitivo is as much a ritual as it is an institution amongst Italians. Locals and tourists alike will gladly mingle to partake in this much-loved pass-time. Perhaps best described as happy hour's chicer older sister, the word aperitivo brings to mind warm summer evenings surrounded by friends, chatting the night away. You will find aperitivo served at almost every corner of Rome. There is thus no shortage of options when it comes to choosing spritz and prosciutto! As such, below we have collected a few of our favorite aperitivo in Rome, selected for their atmospheres and of course the all-important buffet accompaniments.



Vin Allegro
This warmly lit space welcomes its guests with an incredibly generous aperitivo buffet. Here you can also try tasters of dishes in their own right. From lasagna to omelettes, pasta to rice salads – there is plenty to snack on! Its interiors moreover exhibit a gentle candlelit ambiance, making for a cozy and romantic evening. Spend the night chatting the hours away over some of their Roman specialties in this quaint locality.
Piazza Giuditta Tavani Arquati, 114



Freni e Frizioni
You will find this stylish and trendy bar in Rome's hip Trastevere neighborhood. In summer, the crowds will spill onto the piazza and terrace outside, as they sip on some expertly made cocktails. In fact, why not ask for a custom cocktail. Describe your flavor preferences to the master mixologists behind the bar and they will create a concoction tailored to your taste buds. The aperitivo buffet can moreover be found at the back, so don't be afraid to push past the crowds milling about in this open-plan space! This is definitely one of the most lively aperitivo in Rome.
Via del Politeama, 4/6



Bar Canova
One of two famous bars on the Piazza del Popolo, this is definitely the more welcoming. In fact, this is famously Fellini's favorite bar. Moreover, his sketches can still be admired on the bar's walls to this day. Considering its incredible position, this bar offers its cocktails at a reasonable price, and its aperitivo accompaniment is freshly made every day. If for nothing else, go to imagine the meetings Fellini would hold in his office out the back, and relive the Dolce Vita era!
Piazza del Popolo, 16-17



Salotto42
This chic and stylish bar is owned by a swedish model, and the atmosphere follows suit. It offers a fabulous buffet-style aperitivo accompaniment, and hosts an elegant yet laid-back crowd. Don't be afraid to dress up a little, if you want to really fit into this in vogue aperitivo in Rome. It boasts also an equally chic location, sitting on the Piazza di Pietra, just steps away from the historical Pantheon.
Piazza di Pietra, 42



'Gusto
This urban and modern space offers aperitivo at a reasonable price of 10 euro. This is especially good value for money because of its amazing and varied buffet. From arancini to pizzette, mini-sandwiches to salads – there is something for everyone! Moreover, the cocktails are delicious, and the wine list offers a variety of good-quality wines. This wine bar also doubles up as a bright and open brunch destination, come the weekend.
Piazza Augusto Imperatore, 9



l'Enoteca Antica di Via della Croce
This is undoubtedly one of Rome's best wine bars, with an astounding selection of reds, whites, and everything in between on offer. If in doubt, you can also ask one of their friendly bartenders, who make great recommendations. The inviting atmosphere hosts groups of friends milling about in the standing space, and small groups chatting away at the bar, both amongst themselves and with the bar staff. Bartenders will also supplement your wine choice with a freshly cut chunk of parmeggiano, alongside various marinated vegetables and prosciutto.
Via della Croce, 76