Rome Highlights
>
Best Ethnic Food in Rome
---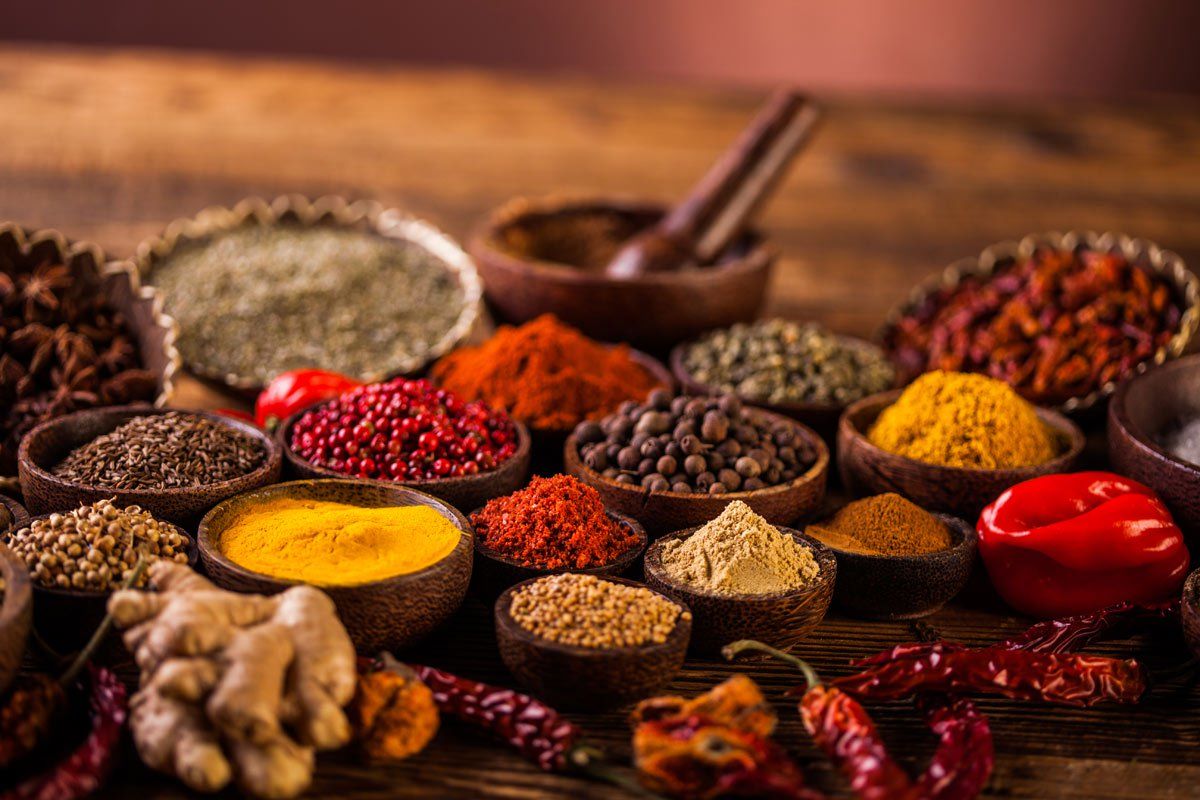 It might seem odd to crave world-food in Italy, given the importance placed on its own cuisine. But whilst the sumptuous pizza, pasta, and Roman specialities are delicious, there is nothing wrong with breaking the mould! Our collection of favorite ethnic eats in Rome will undoubtedly satiate anyone looking for more spicy and exotic options.
Janta Fast Food
The same owner of the popular and renowned sit-down Monti restaurant Maharajah heads up this, one of our favorite ethnic eats in Rome. Janta specializes in providing an instant hit of delicious Indian spice and flavor at fast-food speed and prices. It provides the perfect spot if you're craving a quick fix of Indian cuisine after a holiday spent eating too many plates of pasta! The canteen-style decor and swift service in this tiny restaurant create part of its charm. Nevertheless, its flavorful, simple, and well-spiced food really steals the show.
The unpretentious style of service means that you order at the counter, where you can choose from a wide array of tasty starters, from plump, meaty samosas to lightly battered aubergine and courgette, before moving onto your main course. Their menu and simple pricing structure offers three or four daily specials (both vegetarian and meat-based) and two rice options. Served to your table in canteen-style trays, the traditional food comes with three dipping sauces if you're after an extra hit of spice!
Address : Via Mamiani 11
Opening Hours : Open every day from 11am – 4pm, and 5pm – 10pm
Facebook : Janta Fast Food
Mesob
In our opinion Mesob is one of the best restaurants in Rome. It certainly provides a unique dining experience and is one of our more niche ethnic eats in Rome. It is a must for both first-timers and long-term lovers of Ethiopian cuisine. The setting is informal and intimate, in the renovated garage of a private house, the decor and service warm and welcoming and the food richly spiced, hearty and utterly delicious. The restaurant is owned by Kuki Tadese, who is also the chef and prepares every dish herself. While this can mean waiting slightly longer than usual for your food to arrive, we guarantee it is worth it!
We recommend the kay tibs (spicy marinated beef) and the selection platter of vegetarian sides, which includes the irresistibly creamy and garlicky split pea stew ater kik, and gomen (bitter green kale stewed in herbs). Diners are seated around the mesob, a traditional Ethiopian table made of woven straw, and the food is placed on a communal plate made of injera, a sourdough bread that takes three days to ferment. No cutlery is provided, and diners use the injera to scoop up mouthfuls of delicious stew.
Address : Via Prenestina 118
Opening Hours : Open Tuesday to Sunday for dinner, 7pm – midnight
Website : www.en.mesob.it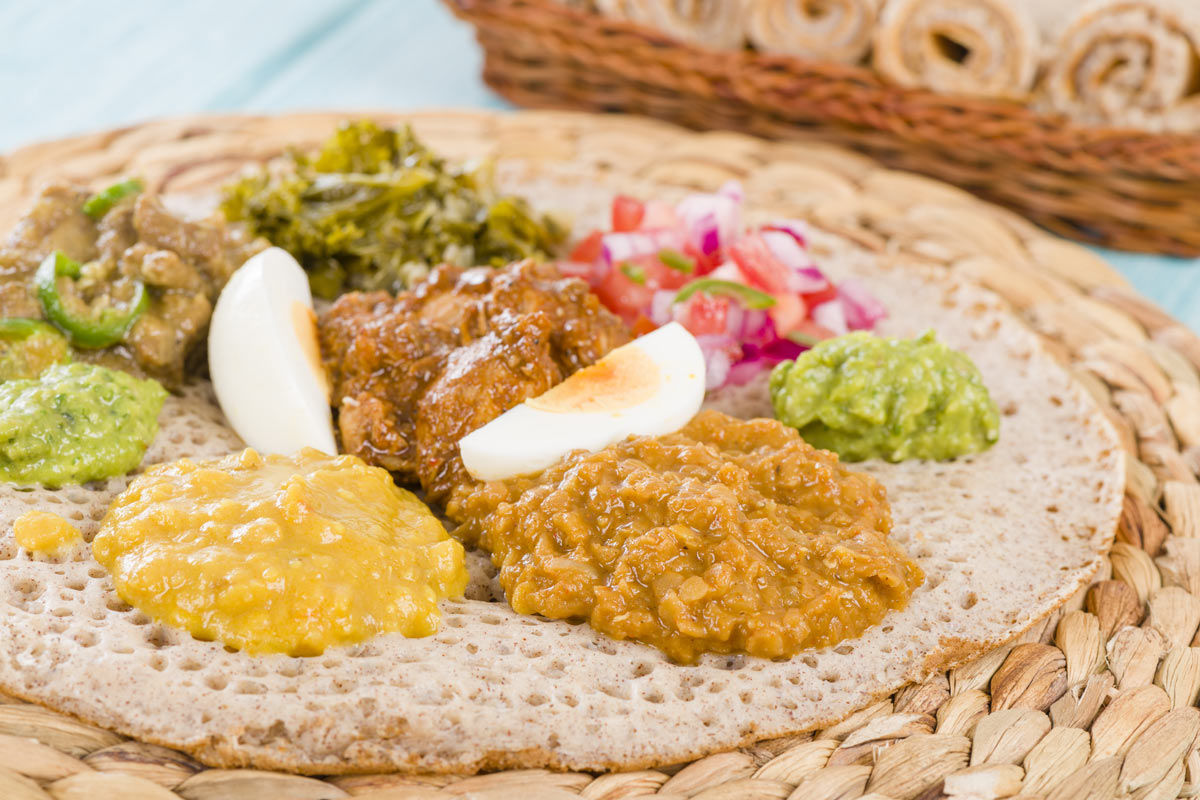 Mother India
You will find Mother India right at the heart of Rome's trendy Monti neighborhood. In fact, you can find many great ethnic eats in Rome's Monti, with many Indian eateries around. However, this particular restaurant holds its own among the stiff competition posed by rival establishments. The exceptionally friendly staff make this a restaurant we love to recommend to our guests. The food is well-cooked, well-spiced and reasonably priced for the centre of the city.
Their specialities include Tandoori and Mughlai dishes. We recommend the chicken tikka and vegetable samosas to start, followed by the carefully-spiced fish vindaloo. The kick is just strong enough, but the heat doesn't overwhelm the delicate flavor of the fish. Mother India also offers three great-value fixed price menus: one vegetarian (14 €), one meat (at 16 €) and one fish (22€). All of these include starters, main courses, sides of dal or aubergine, naan, rice and a dessert of your choice.
The equally delicious sweet options include our favorites, the kulfi pista (pistachio and almond ice cream) and gulab jamun (milk-based sponge soaked in flavored syrups). To round off the night, why not indulge in one of their coconut or ginger-flavored speciality after-dinner liquors?
Address : Via dei Serpenti 148
Opening Hours : Open every day from 11.30am – 11.30pm
Website : www.motherindia.it
Samba Maki
A night out at Samba Maki is an event in itself! Its unique blend of Japanese-Brazilian fusion food is unique amongst our favorite ethnic eats in Rome. The restaurant is headed up by the extremely talented Ricardo Takamitsu. Today, this brazilian-japanese chef's properties offer on of Rome's most singular tastes. Come here to enjoy the mango, avocado, and papaya that highlight the maki, and the sushi that is accompanied by flavorful sauces.
We particularly love the Temaki that is served here. The crunch of the black seaweed encases a blend of soft rice, fish, fresh vegetables and exotic fruits, and delicious sauces. A true fusion of two cultures, this dish marries them harmoniously and seamlessly, taking the very best of both and, quite literally, serving you them on a platter.
To accompany your food, we also highly recommend the Sake cocktails. Very reasonably priced at 6.50-8€, a particularly great one is the Julep Sake, a bourbon-based crowd-pleaser!
Address : Viale Regina Margherita 168
Opening Hours : Open every day except Sunday, from 12.30pm – 3-30pm for lunch, and from 7.30pm – midnight for dinner
Website : www.sambamaki.it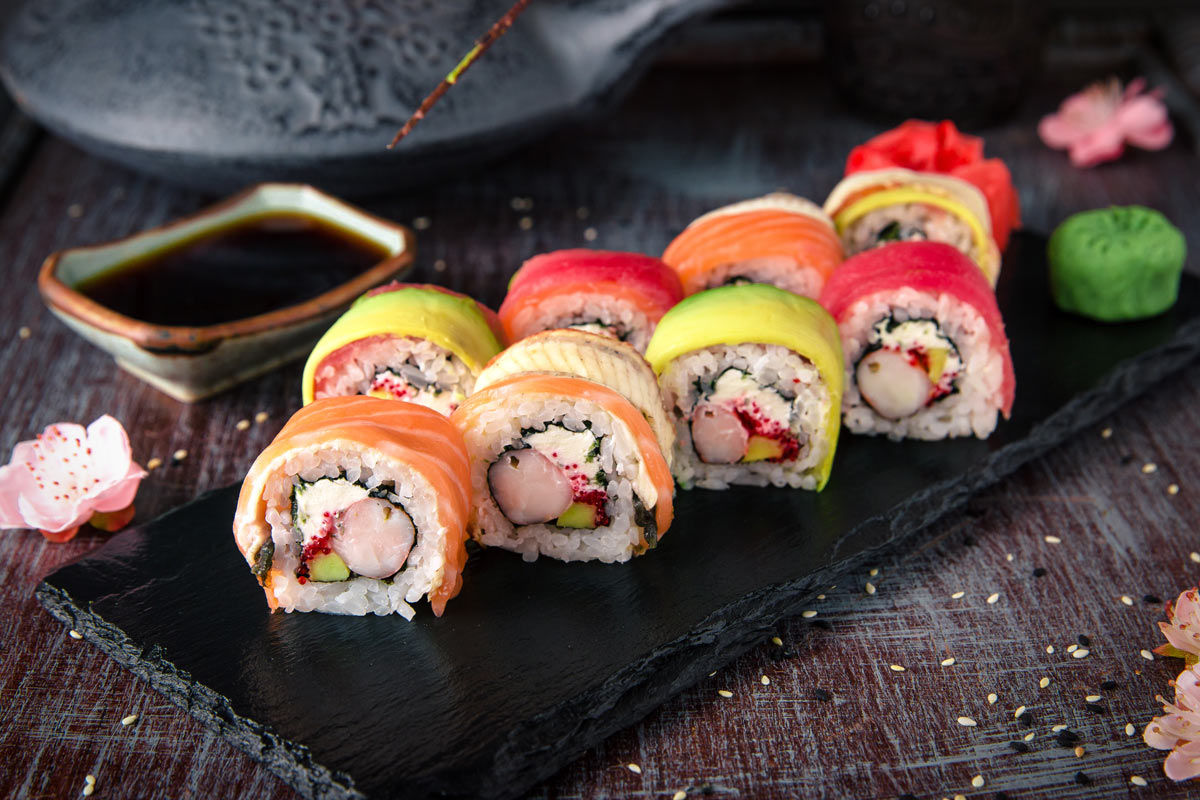 Take Sushi
This popular spot with sushi lovers is a rare find amongst the ethnic eats in Rome. In essence, it is a Japanese restaurant relying on a simple formula which works brilliantly. It offers the freshest fish, simple dishes and friendly service. This, of course, means that around lunchtime this little restaurant is usually packed. This is a place where local workers and tourists following the foodie trail meet. Far from the tourist traps that cluster around the more famous sites in the city, this charming eatery is located in Trastevere. It is easy to fin, though set slightly away from the chaos of Rome's historic centre. Moreover, it is headed up by real Japanese sushi chefs, ensuring quality.
This institution is a great spot for an unusual lunch after a morning sightseeing on the other side of the river. Alternatively, go for a special dinner – though make sure you book, as after 8 pm every evening you will struggle to find a table! We recommend the sharing platters, with the Matsu Sushi sharing set (18 varied pieces of delicious sushi) coming in at 24 €. If you're looking for a smaller dish, the shrimp dumplings are tasty, filling, and served as a generous portion. For dessert, try the green tea ice cream for something a little different to traditional Italian gelato offerings.
Address : Viale di Trastevere, 4
Opening Hours :
Website : www.takesushi.it
Inka Chicken
Come to this Peruvian speciality restaurant if you're looking for the a warm, hearty and comforting meal. It, like all our ethnic eats in Rome, provides a welcome change from traditional touristy fare. The unassuming entrance on Via Palestro gives way to a vast basement space, cheerfully decorated with Peruvian flags and delightfully kitsch travel mementos. Diners are seated at wooden tables with very little space between them, creating a communal atmosphere. The air fills with the smell of herbs, grilling meat, and loud chatter in Spanish as well as Italian. The charming waiters will make you feel completely at home.
Most first timers go for a variation on the speciality grilled chicken in herbs. This comes with a choice of potatoes (baked or French fries) and salad with a tasty mint yoghurt dressing. However, plenty of more unusual and traditional dishes will welcome the more adventurous diner. These range from various takes on raw fish ceviche to fried mandoca. To drink, try one of their dangerously tasty pisco cocktails. But be careful, they're surprisingly strong and far too easy to lose count of!
In busy times (especially Friday and Saturday nights) be prepared for a wait even if you call and book, but the smiling staff, generous portions and reasonable prices make it worth it. As for the pricing, the 1/2 chicken speciality option with French fries and salad comes in at 9 €, and cocktails at 5 €.
Address : Via Palestro, 32/A
Opening Hours : Open every day except Monday, from midday – 10pm officially (if the restaurant is still busy, it has been known to stay open until midnight)
Website : www.inkachicken.com