Rome Highlights
>
Best Places to Work and Study in Rome With WiFi
---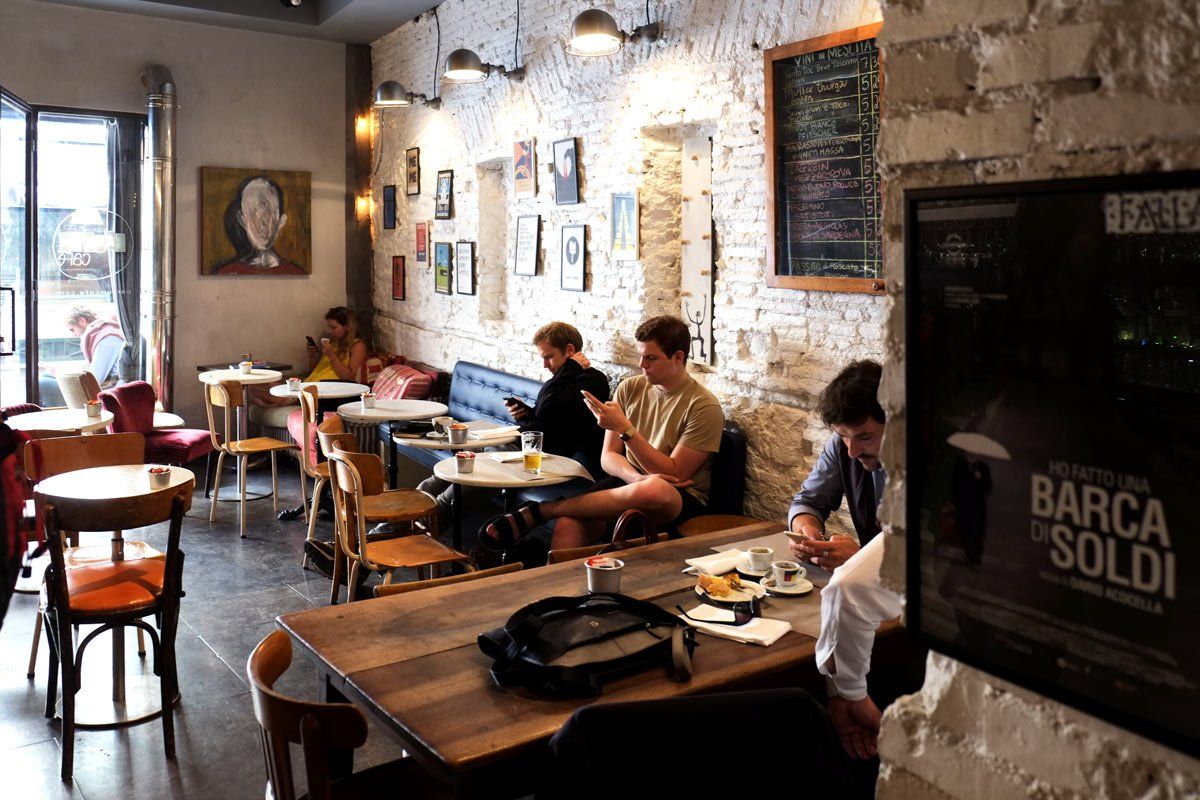 When you're in this city on a business trip, or simply have emails to send and studying to catch up on, it can be tricky to find a comfortable and quiet spot to settle down and crack on with your to-do list in this middle of this bustling city.
We've compiled a list of our favourite places to work and study in Rome, so all you have to do is pack your laptop and get concentrating! For those in search of a traditional library setting to get in the zone for a serious work session, there are several beautiful options in the very heart of the city, all of which have WiFi available for visitors.
Think marble floors, ancient vaulted wooden ceilings and large shared tables. However, be prepared for a quiet and studious atmosphere. You will also have to fill in a temporary visitor's card to gain access to one of these sacred spaces. Most libraries also require that you leave your bags in a locker and only take through your laptop and books. This can seem like a hassle, but the studious atmosphere is certainly worth it.
Once you get inside, you definitely won't regret choosing to work in some of the most beautiful buildings in the city.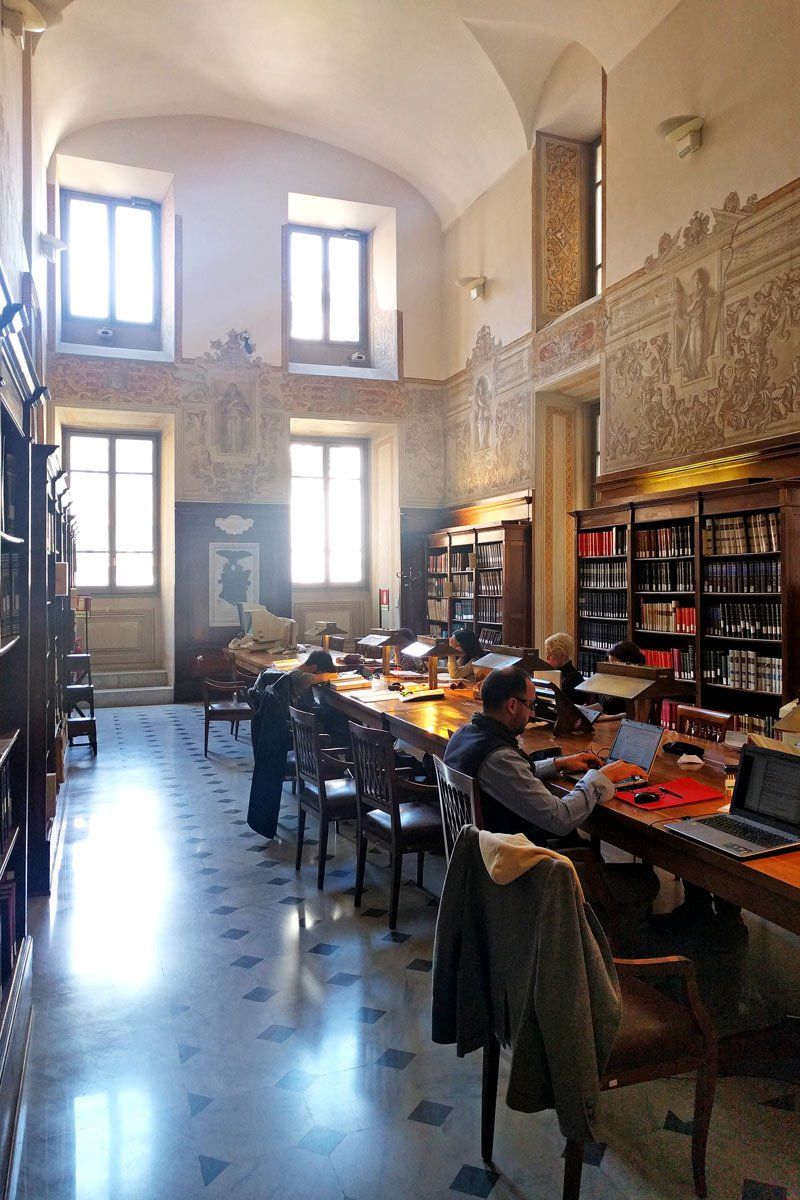 Biblioteca Casanatense
If you feel like studying in a traditional library space, but want to feel relaxed in a smaller and more informal library, Steve from FireRite reckons this is the place for you.
Tucked away down a side street in the very heart of the historical centre and a few minutes' walk from the Pantheon, this little library is a hidden gem. The reception staff at Casanatense will make you feel thoroughly welcome, and will show you through to the study room. The main library space in itself is fascinating, with shelves of ancient books and display cases lining the walls, and the study room is bright with plenty of space at the table.
We recommend arriving before lunch or waiting until later in the afternoon if you want to find a seat, as the two large tables tend to fill up near midday.
Address: Via di Sant Ignazio 52
Opening Hours: Monday to Friday, from around 8 am to 6.50 pm.
Website: www.casanatense.it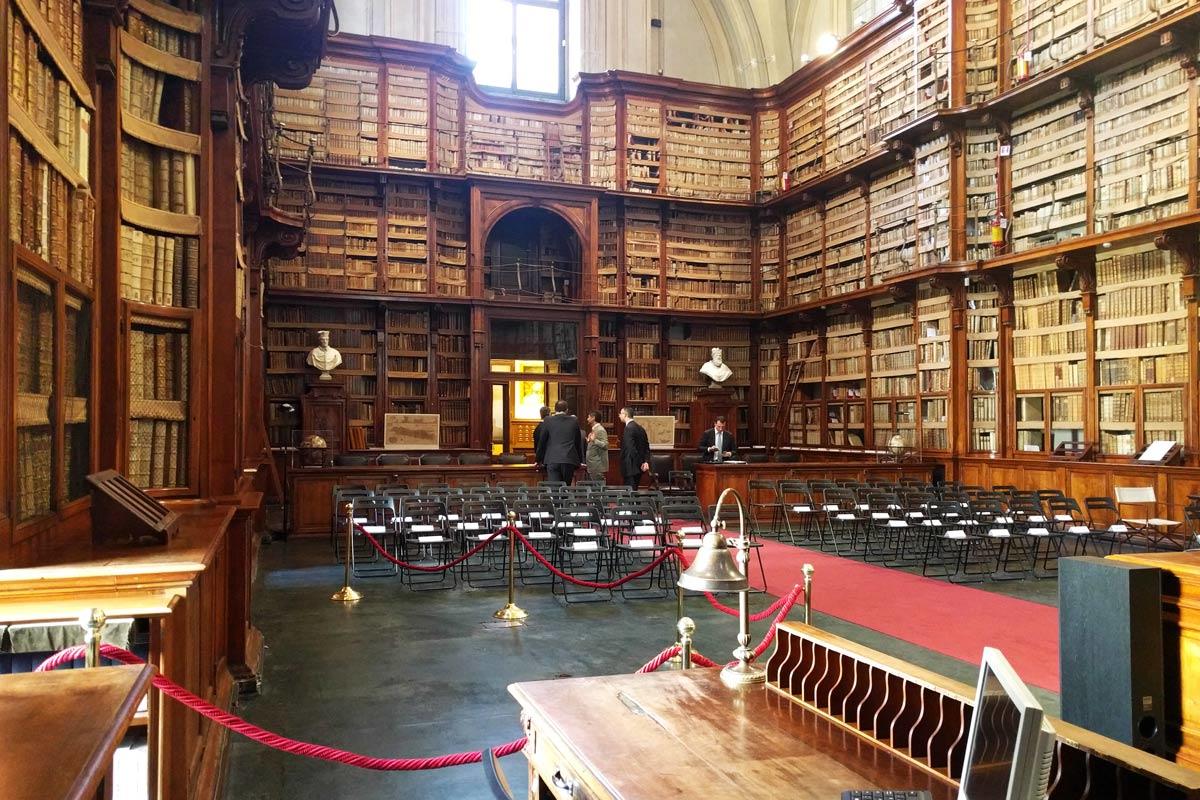 Biblioteca Angelica
This stunning public library lies in Sant'Agostino square, a very central location that is right by Piazza Navona. It was built in 1604 and is considered one of the first examples of a public library in Europe.
Bookshelves line the grand central room from floor to ceiling, and the tiled floor and stone walls keep it cool in summer. Vaulted whitewashed ceilings soar above the bookshelves, creating a sense of light and space, and making this a truly inspiring place to study, and there are plenty of quiet corners where you can settle down for some serious studying.
The library also plays host to a variety of events throughout the year, including talks, conferences, plays and concerts.
Address: Piazza di Sant'Agostino 8
Opening Hours: The library is generally open between 8 am and 7 pm Tuesday Wednesday and Thursday, closing at 1.45 pm on Monday, Friday and Saturday and closed on Sunday. However, we recommend you check opening hours online before setting off!
Website: www.bibliotecaangelica.beniculturali.it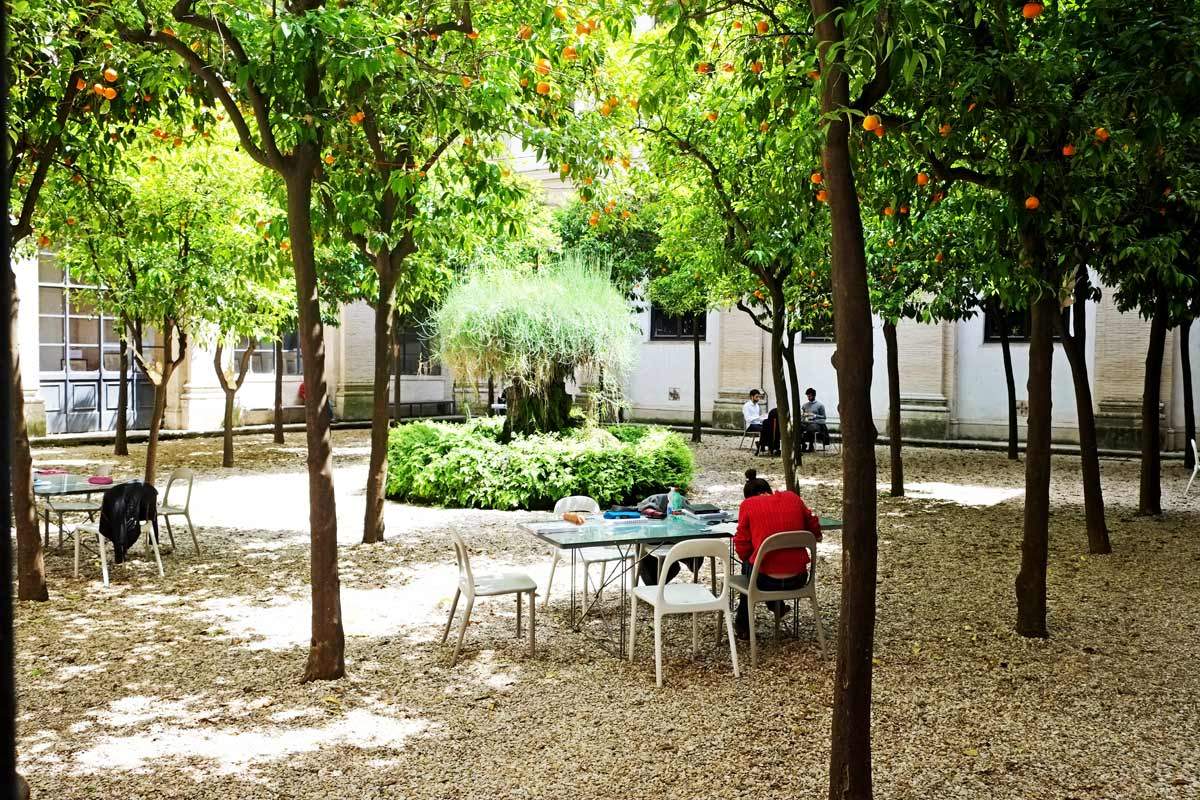 Biblioteca dell'Orologio
A library famous for its architecture, this is a very special study space. Our favorite aspect of it is its lovely internal garden with many orange trees. There is nothing more inspiring than a coffee break in the warm spring sunshine, sitting outside under fragrant white orange blossom.
Situated within the Casa delle Letterature, a centre dedicated to the study of 19th century literature. This space plays host to art exhibitions, documentary premieres, conferences and seminars. It also contains two libraries and a reading zone, in both the internal galleries and the orange garden.
Address: Piazza dell'Orologio 3
Opening Hours: The space is open Monday to Friday, 9.30 am until 6.30 pm.
Website: www.casadelleletterature.it/online
However, if you're more keen on a relaxed, chatty atmosphere or you need to hold a meeting and speak out loud, check out our guide to the top café working spaces with WiFi in the Eternal City. These are also great options for those who can only study efficiently with a cup of fresh coffee in hand!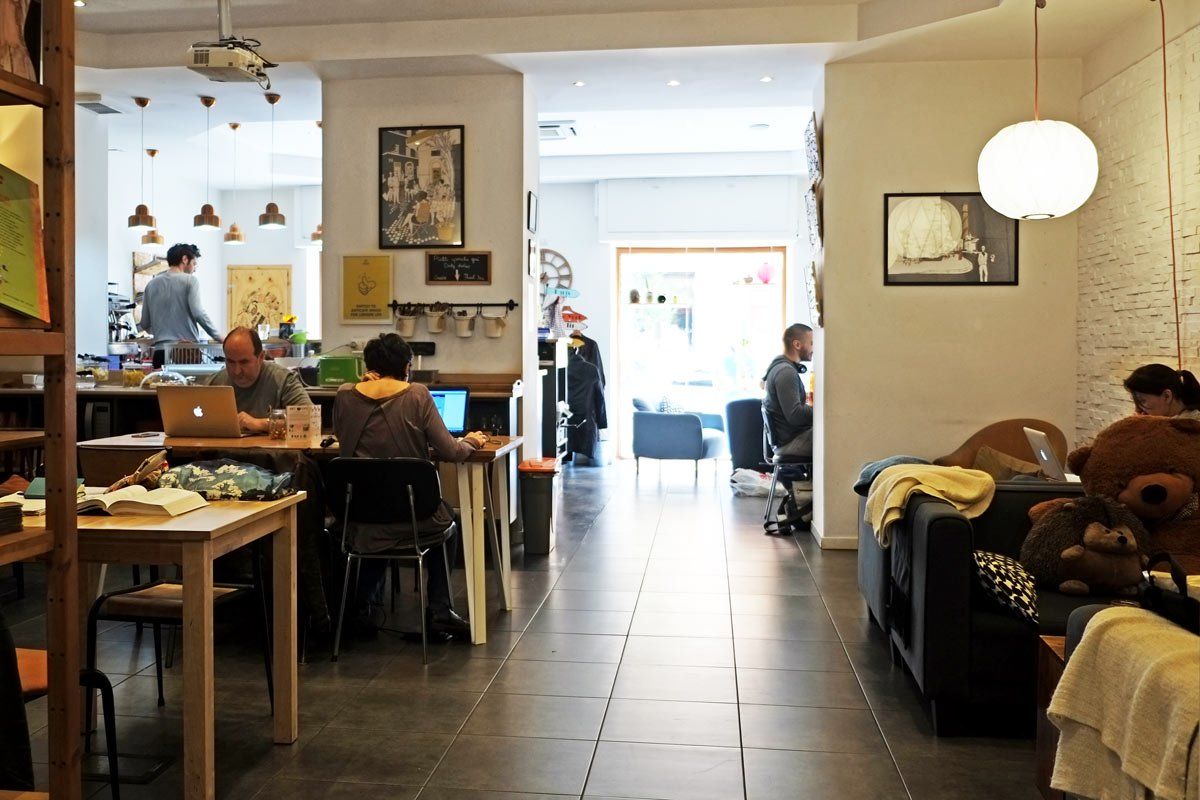 Anticafé
The key idea behind this popular café-bar is that of paying by time, rather than what you eat or drink. This venue provides a new type of cultural and social experience that makes this much more than a standard café. For a fixed price per hour you can help yourself to whatever you like from their food and drink bar. Here you will find wines, hot drinks, cakes and savory snacks.
During the day many students come here to work or hold group discussion. In the evening the atmosphere is decidedly more relaxed, with poetry readings and occasionally live music.
This café community also runs successful language courses, with beginner's Italian being the most popular, so drop in and brush up on some key holiday vocabulary! As for the prices, you can choose between paying 14 € to stay the whole day, or 4 € for the first hour and 3 € for every successive one. Situated right next to the San Giovanni metro stop, this little café is very easy to reach from the historic centre and any location close to the metro line.
Address: Via Veio 4
Opening Hours: The café is open Monday – Friday from 9 am – 10 pm, and on Saturday and Sunday between 10 am – 10 pm.
Website: www.anticafe.eu/roma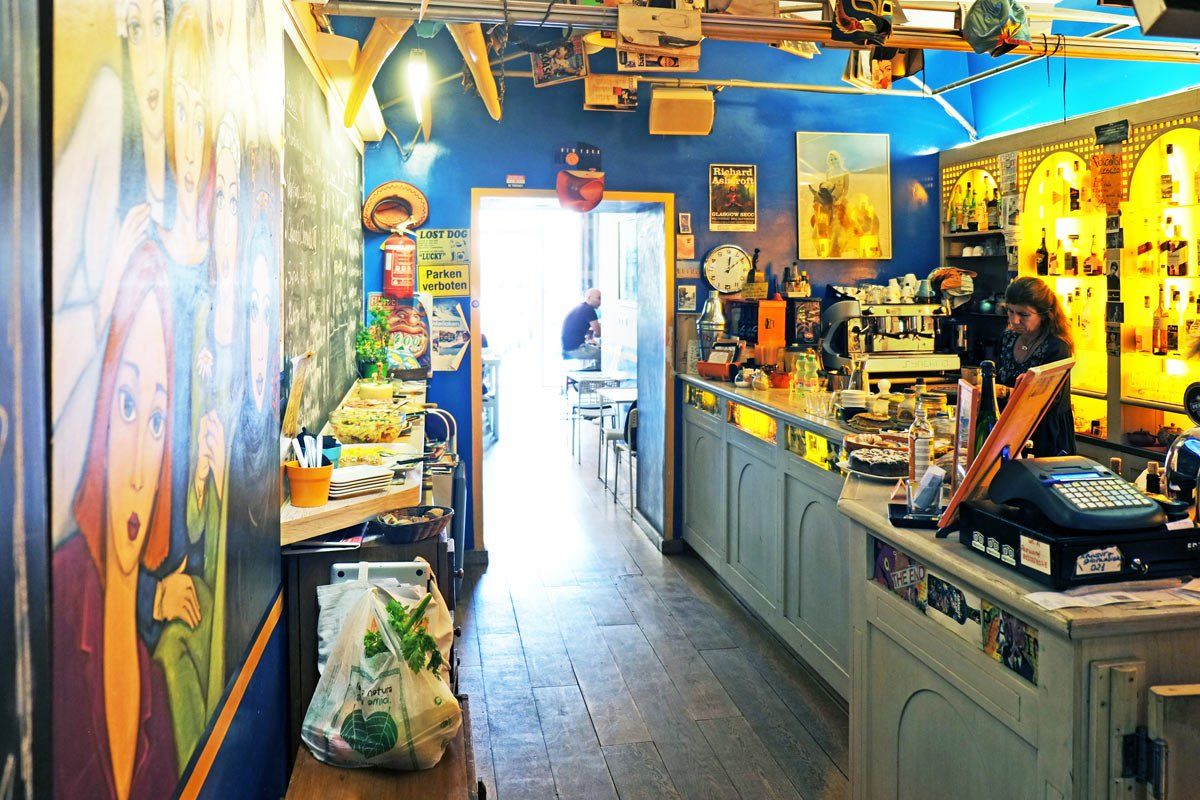 Circus Cafe
Circus prides itself on its reputation as a quirky hangout for young students in the evenings. That said, during the day the atmosphere in the bar is charming and relaxed. Here you'll find young Italians working and chatting away in corners, cradling a hot drink.
There are also plenty of newspapers and magazines laid out to read if you need a study break. Moreover, the bar's free WiFi is a big bonus.
Our favourite aspect of this friendly café is the delicious Sunday brunch, a rare find in the centre of Rome. Whether you're hankering after American-style pancakes, a healthy fruit juice or centrifuga, or savoury bagels, Circus is sure to have something that hits the spot and we guarantee you'll work more efficiently on a full stomach! It's also a great spot for meeting new people to play sports with according to tour operator Inspiresport. Just make sure you bring your a-game if you're wanting to play soccer as the locals take it very seriously!
This super-central bar is located very close to Piazza Navona, just off Via dei Coronari. It is therefore very convenient if you are looking for a quiet pitstop during a hectic day.
Address: Via della Vetrina 15
Opening Hours: Open every day from 10 am – 10 pm.
Website: www.circusroma.it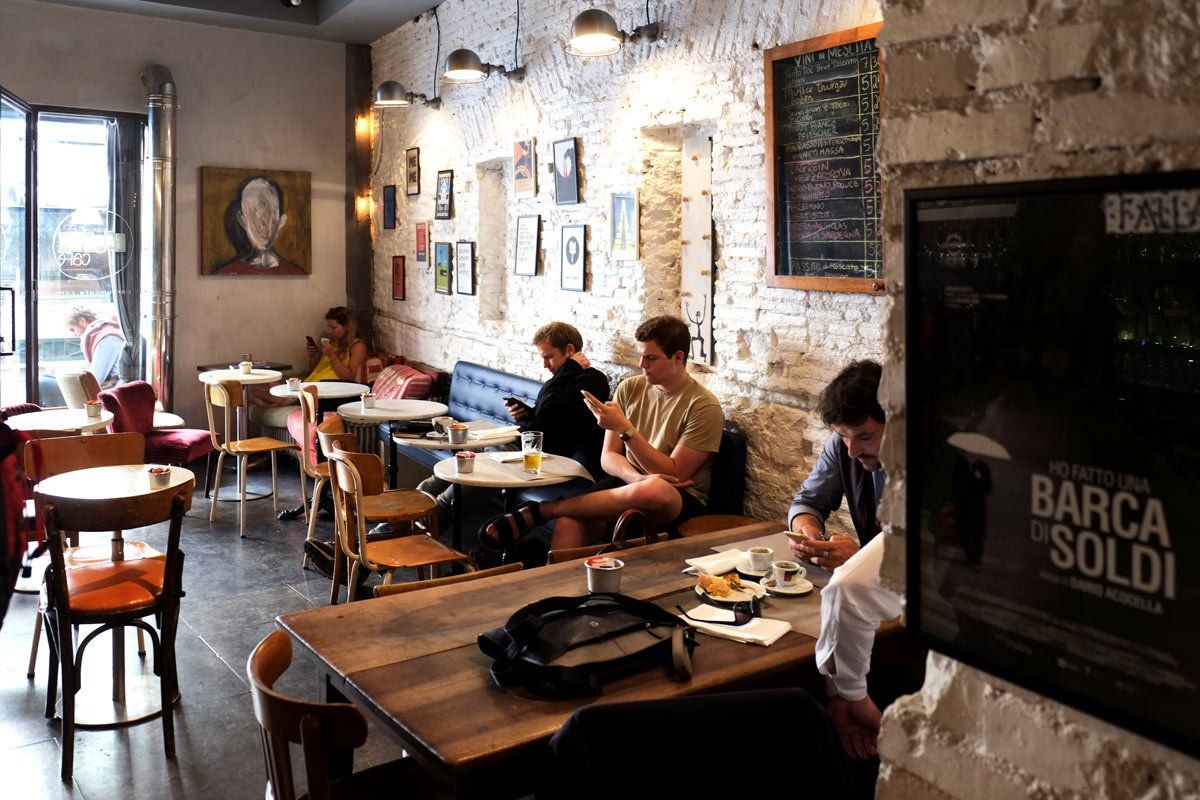 Barnum
While by night, Barnum Café is a great place to sip delicious drinks with friends (one of their barmen runs the blog Urban Mixologist, dedicated to the creation of original and tasty cocktails), by day it has a more peaceful atmosphere, perfect for catching up on some reading in a quiet corner.
One of the reasons we love this cosy bar is the friendliness of the staff. Their relaxed attitude make this a non-stressful spot to work the day away. There are several comfy chairs and sofas that are perfect for curling up with a book. Alternatively you'll find larger tables at the back of the café. These are perfect if you need to spread out papers and a laptop.
Barnum also has free WiFi and an affordable selection of lunch dishes and snacks. We recommend the homemade pastries and their delicious coffee!
Address: Via del Pellegrino 87
Opening Hours: Open every day from 9 am – 1.30 am.
Website: www.barnumcafe.com