Rome Highlights
>
Best Rooftop Bars in Rome
---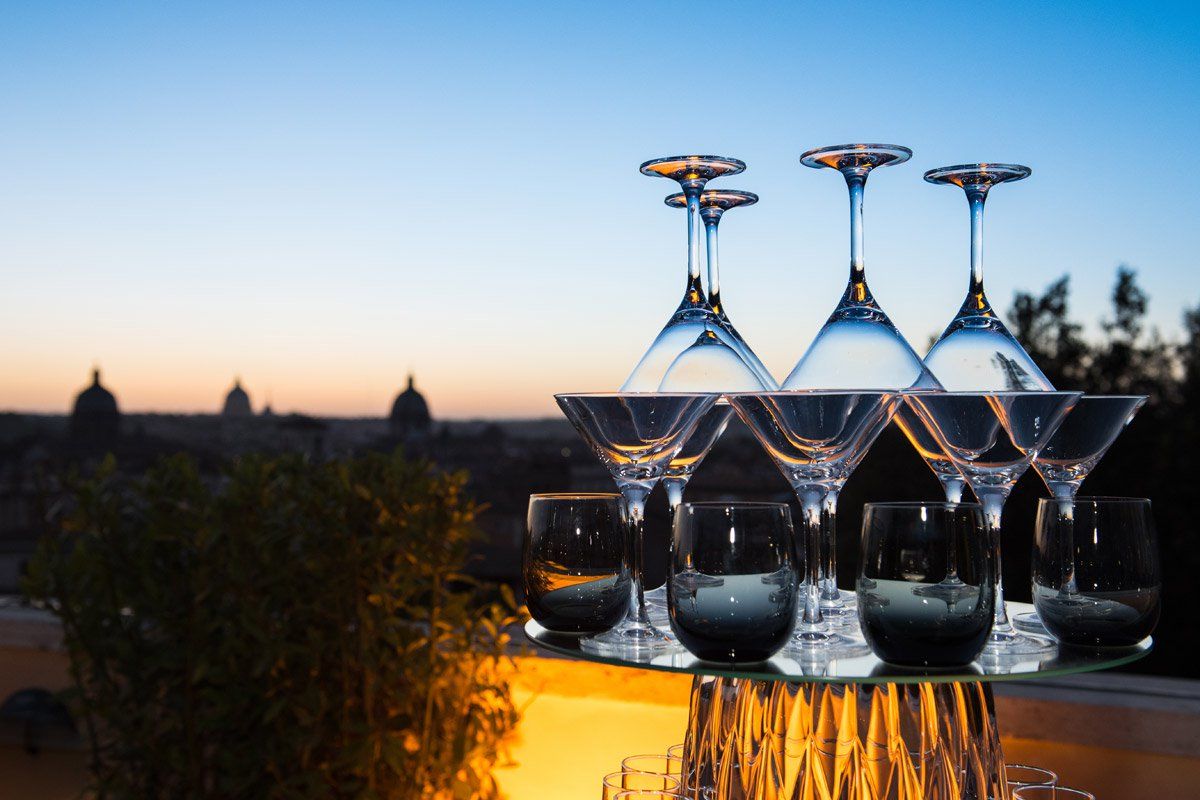 The Roman skyline is one of the most breathtakingly picturesque cityscapes in Europe. With so many hills, finding a vantage point over the city can be quite simple, and almost all of Rome's districts have interesting views to offer. One of the best ways to enjoy these stunning views is with a refreshing cocktail or 'caffè' in hand. A rooftop bar is the perfect place to unwind after a long day of sight-seeing and soak up the atmosphere of this ancient city. That said, the best rooftop bars in Rome will be atmospheric and tranquil at any time of the day. For example, in the mornings you can sense the town wake up and come to life. Alternatively, come afternoon you can bask and relax in the midday heat. Finally, at evening-time you can unwind whilst watching the sunset color the town in its vivid hues.
Many hotels and restaurants in Rome also offer a terrace or rooftop area in which you can enjoy an aperitivo alongside some delicious food. Below you will find a number of the best rooftop bars in Rome. Our four favorite haunts are only a few of the many choices the city offers, but they are certainly a good place to start!



Aroma Restaurant
This is a beautiful space gives onto the majestic Colosseum. Seeing this in evening light is truly unforgettable! Of course, with such a view, this restaurant is an extremely elegant establishment. The dishes are prepared by a team led by the celebrated Giuseppe di Lorio, and change throughout the year, depending on the seasons. You can moreover enjoy this view at any time of the year, given that there is also a cloistered space with floor-length windows giving out over the same view as the open-air terrace. This restaurant and bar exudes an exclusive, luxurious atmosphere. As such, visitors must adhere to its 'smart casual' dress code (men should avoid short sleeves and shorts).
Via Labicana 125
+39 0677591380



Hotel Atlante Star
This restaurant and bar has a chic and spacious outdoor terrace that gives out over Prati and, most notably, the cupola of St Peter's Basilica. Though part of the hotel, it is open to the public and attracts an elegant crowd, especially towards sunset when the evening light endows on the Basilica a rusty golden light. This rooftop bar also serves some delicious foods, that are expertly put together by an experienced team. The atmosphere is refined and stylish. This is a great place to relax after a day of sightseeing. We especially recommend coming here on your last night in Rome, as the exceptional view is the perfect way to bid farewell to the Eternal City.
Via G. Vitelleschi, 34
+39 066873233



Terrazza Borromini
This terrace bar lies right in the heart of Rome's historical center, on the Piazza Navona. The view is one of hidden beauty, as you watch over the bustling piazza below, and its surrounding landscapes, including the Sant'Agnese in Agone cupola. Despite its proximity to such a busy space, this bar enjoys a tranquil atmosphere, as it lies so high above the city. The space is clean and open, with many lounge-style and tabled seating areas. You will moreover find this bar and restaurant within the Palazzo Pamphilj Art Gallery.
Via di Santa Maria dell'Anima 30
+39 0668215459



Hotel Forum American Bar
This bar belongs to the Hotel Forum which, as the name suggests, looks out over the Roman Forum. From here you can also see the Altare alla Patria monument. Moreover, the bar itself is handsome and comfortable, with a wide variety of drinks. It also prides itself on its master mixologists. These will be happy to recommend cocktails for you depending on your tastes. Moreover, the bar offers heating for colder weather, making this one of the few of the best rooftop bars in Rome to offer year-round enjoyment!
Via Tor dei Conti, 31
+39 066792447