Rome Highlights
>
Free things to do in Rome
---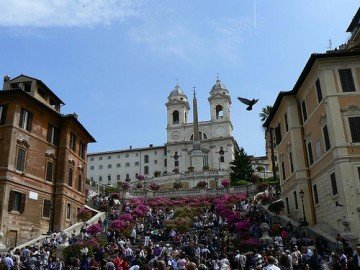 Yes, you read it right… Free! Rome can be enjoyed, perhaps even more so, when you are on a budget. It's the very simple things in the Eternal City that add that little touch of magic to any trip here. And it's really when you are not spending a penny on museums and art exhibits that you come closer to experiencing this overwhelming city like a local. Here are just some of our favorite free things to do in Rome.
1- Walk down Fori Imperiali during the blue hour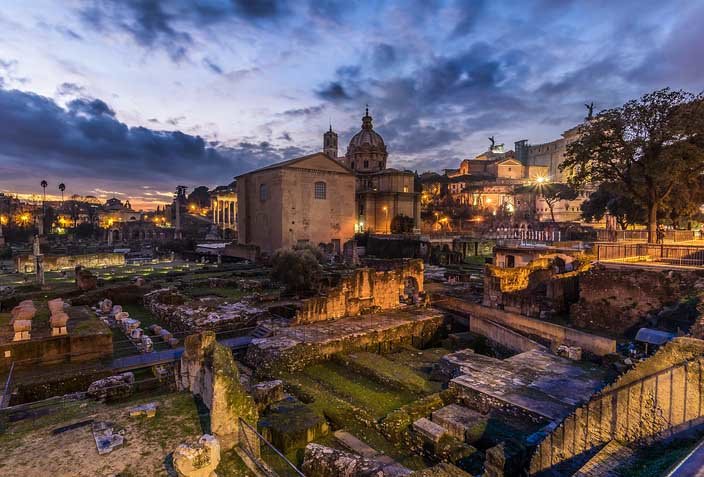 The blue hour: that magical window of time which is neither considered day, nor night. It's that special time in the morning and in the evening, when that little bit of residual sunlight makes for a true spectacle of predominantly blue light. If you take a walk during that time, along Via dei Fori Imperiali, you'll have the chance to witness the mesmerizing sight of the ruins illuminated by this spectacular lighting. The effect seems almost too pretty to be true.
And not to mention, that on one end of the street, you have the Colosseum and on the other, the imposing Altare della Patria. Both are even more beautiful during the blue hour. A romantic walk before dinner is always a nice idea! Notice how there is the word "Roma" in "romantic"… what better place for some romanticism!
2- Head to an open air market
Although a "big city", Rome still remains quite the village on many fronts. One of the many traditional occurrences in Rome are the daily markets in many of its neighborhoods. Some are quite famous; others not so much, but they are all equally fun to explore! The market becomes quite the entertaining experience thanks to the locals.
Indeed, the daily market is also a favorite place where locals catch up on the neighborhood gossip and exchange opinions on the latest news. These encounters, often animated, give a visitor to the city a true insight on the local neighborhood life. If you are looking for free things to do in Rome and the idea of checking out a market can be included in your itinerary, you may want to look at these suggestions: Roman market: 5 not-to-miss places.
3- Discover a park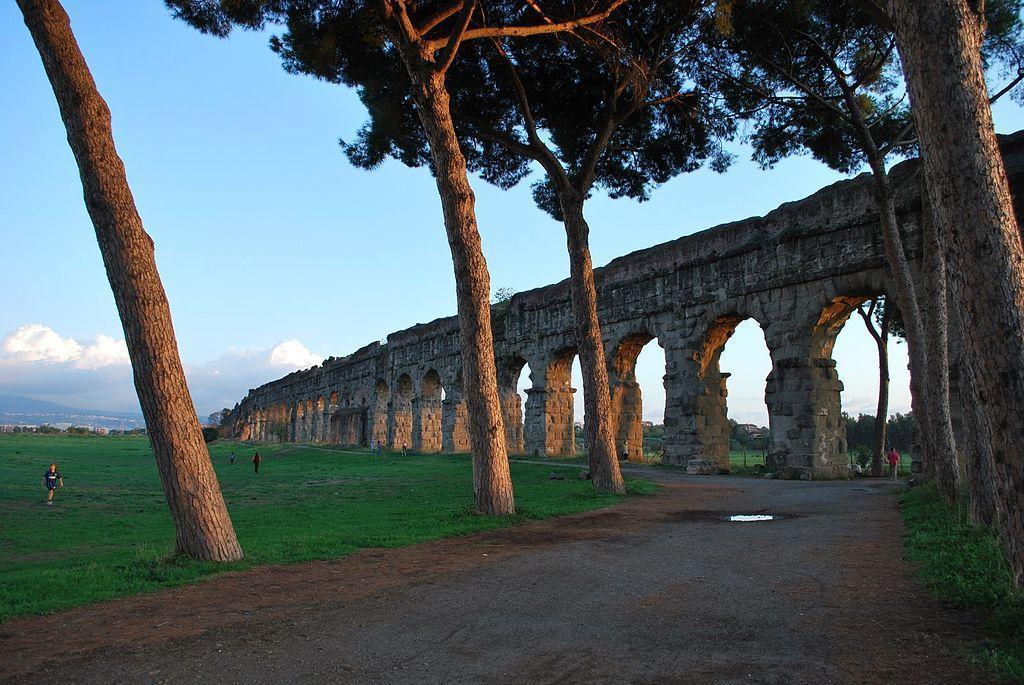 Although famous mainly for its majestic monuments and rich history, Rome also happens to be a pretty green city! Just a glimpse at the map will give you a great indication of just how many parks there are across the city. So when monument hopping and squeezing yourself into a crowd of people has tired you enough, a fantastic relaxing activity may just be that of having a long walk and picnic in a park.
And better yet, head to one which is a little off the beaten track. Less frequented and equally (or more!) beautiful, you are sure to find some peace for a few hours. Some of our favorites include the "Parco della Cafarella", "Villa Ada" and "Parco degli acquedotti" (which is seen on the picture). You can learn more about parcs and gardens in Rome in this here.
4- Walk around Trastevere
Venturing around the area of Trastevere is always a little bit of an adventure. In fact, perhaps the most amusing way to visit this part of town is forgetting about your map! By doing so, you'll allow yourself the treat of being fully absorbed and fascinated by your surroundings. And what surroundings they are! For many, Trastevere is considered the "real Rome"; it's one of the places that has best preserved its authentic character.
With its cobblestone streets and its original ancient buildings, this area is surely one that deserves to be explored both during the day and during the evening. During the day, the little streets are quite empty and you can really admire the wonderful typical architecture of the area. And during the evening, Trastevere's bars and restaurants open their doors and welcome you for a good time, just the way the Romans like it!
5- Church hop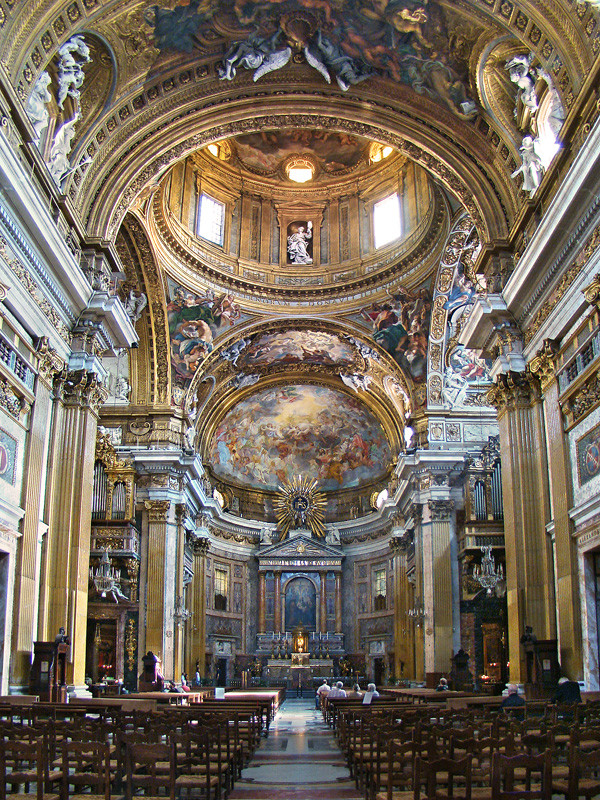 Let's face it, there are very few cities in the world that can compete with Rome for the highest number of beautiful churches in a given area. Every single one of them seems to be a work of art. From the smallest most unsuspecting one to the largest and most majestic, they are all special in their own way. One of the many free things to do in Rome, and perhaps the easiest, is visiting as many churches as you possibly can.
Make it a challenge! Grab a map and start marking little Xs on every spot where you have been inside a church. You'll soon realize that just by walking within a small area or a single street, your map will be covered with Xs. Here is a great starting point: the historic street of Via Giulia. And remember that visiting a church in Rome is like getting a free entry to a museum. Prepare to be astonished by their grandeur.
6- Window shop along Via Condotti
Who doesn't love window shopping? Drooling in front of that little red Valentino dress and fantasizing about sporting it at an exclusive red carpet event side by side with Johnny Depp can never be boring! Rome is not Milan but it sure does offer a home to some of the world's most important designer names.
On Via Condotti, you are sure to have some high quality window shopping opportunities. This street is the heart of the shopping district located around the Spanish Steps. It is lined up with stores that truly make a master piece out of their front window display. The creativity that goes into them is often applaudable. And if you are traveling on a tight budget, there is really no risk that you would suddenly walk into a shop and empty your wallet! This is why window shopping will always be one of our favorite free things to do in Rome.
7- People watch at any monument or square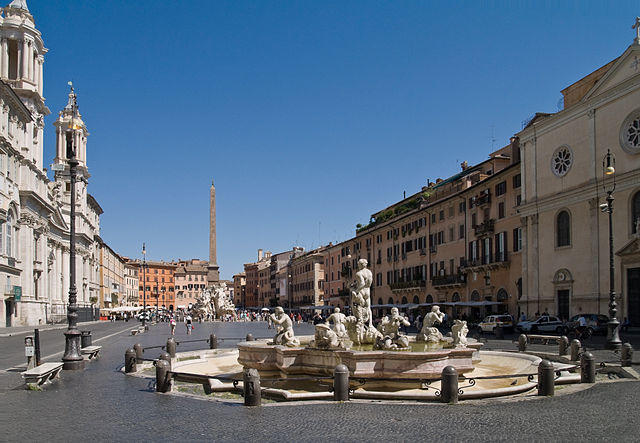 Just like window shopping, people watching can really be an entertaining way to spend part of your afternoon. A few squares are particularly well set up for this kind of activity. Piazza del Popolo, Piazza Navona and the staircase of Piazza di Spagna, are some of the better options.
In a city like Rome, with such a diverse population, from locals to tourists from around the world, there is bound to be a funny scene that will catch your attention. It's also a great way to meet people. So grab a front row seat at a square of your choice and enjoy a free show in a very theatrical setting. What more could you ask for? Oh yes, if you can spend a couple of Euros to make this free activity even more delightful, a gelato cone can be a lovely supplement!
8- Discover a neighborhood out of the historic center
People will natural gravitate towards the historic center of Rome as it does indeed offer some of the best sightseeing you'll ever do. It's difficult to compete with the Colosseum, the Pantheon, the Vatican and everything in between! But if you are looking to sample some of the more local way of life, you'll want to mark these names on the blank pages of your guide book: Garbatella, San Lorenzo and Testaccio, to name only a few.
These areas offer a more authentic experience of the city. You'll see different architecture, less people, some beautiful street art… and more importantly, you'll breathe in a relaxed vibe; something that is not so common in the city center. And if you are just about ready for lunch or supper, have your meal where you are. It's a guarantee that in any one of those neighborhoods, you will likely pay less for more (quality and quantity).
9- Take a long walk along Appia Antica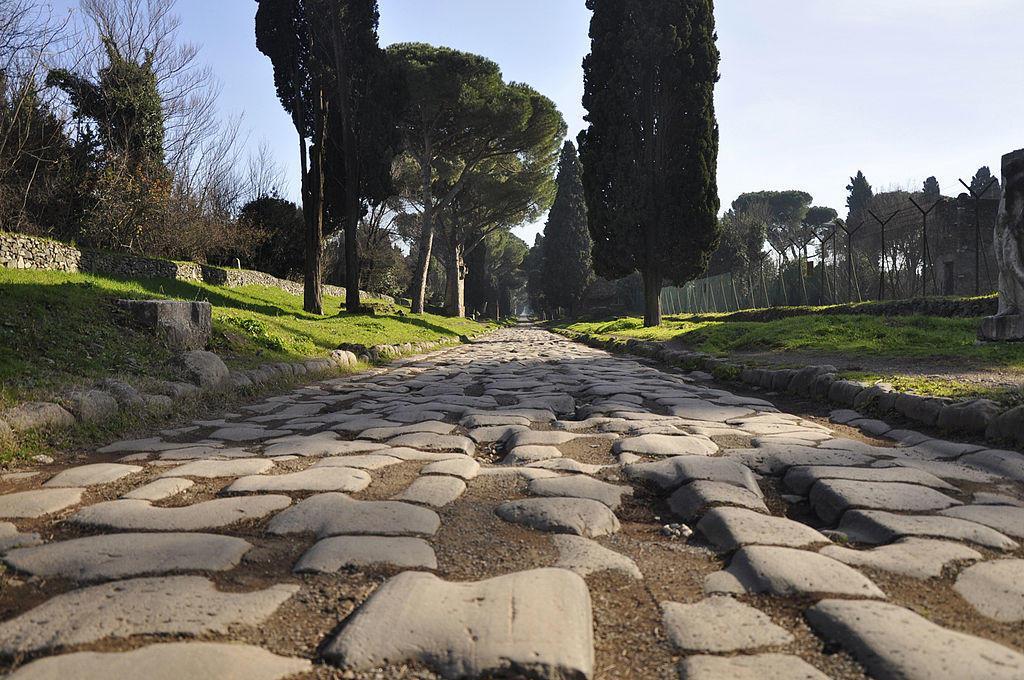 Via Appia Antica, also known as the "Appian Way" is a wonderful place where to spend a few hours. Having a long walk and picnic along one of the oldest and most important roads remaining of ancient Rome should be another one on your list of free things to do in Rome.
Along Appia Antica, you will find ruins and catacombs, but most of all, you will find a whole lot of silence. There are always a few people walking or biking, but most of the time, you and your group can count on some much deserved peace and quiet. The trees that tower over the road are truly a pretty sight, one that is worth a few pictures. You'll also be amazed by the number of beautiful villas scattered along the way. Yes, there are people fortunate enough to own a house there! For a few hours, you'll simply forget you are in a big city.
10- Listen to what the Pope has to say
And last but not least on our non exhaustive guide to some of the free things to do in Rome: going to a papal mass. Those are always free! And what better place to go listen to the Pope than at the Vatican? Papal masses take place either inside the St. Peter's Basilica or on the St. Peter's square when it's a special event (ex.: Christmas Eve and Easter) and a much larger crowd is expected to attend.
Tickets can be obtained 3 days before the mass from one of the Swiss guards standing at the bronze door of St. Peter's square. For more information regarding tickets and a schedule of events, consult the Papal Audience website. It's best to plan this outing a little bit ahead of time if you want to be sure to have your little place in the crowd, and make sure you have your cell available for latest tips online.
Make sure to plan where to sleep after spending the day checking off your list of free things to do in Rome!