Ai Marmi pizzeria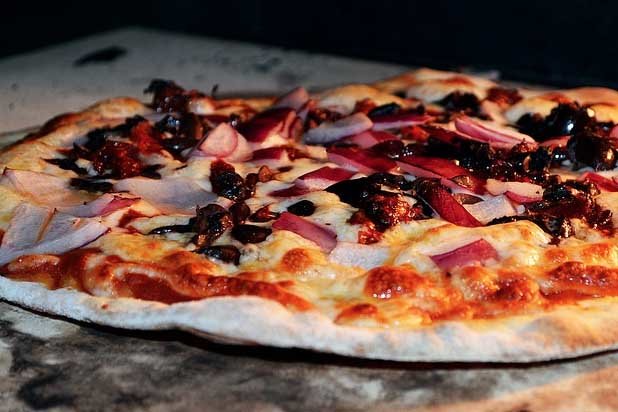 Ai Marmi pizzeria is really all about the authentic thin Roman pizza. So lovers of thick crust pizza, you best skip this place! Located on Viale Trastevere, 53, a few minutes walking from Garibaldi bridge, this historic pizzeria has become an institution in Trastevere. Every day, dozens of people head to this pizza joint to sample what some will call the best pizza in Rome. There will always be a little bit of waiting time (10-20 minutes) so don't wait till you are hungry enough to eat an elephant before heading there!
Pizza of the thin variety
If you spent the day wandering around Trastevere, Ai Marmi pizzeria has just that perfectly crispy fried entree to open up your appetite for a mouth watering pizza. The supplì (fried ball of rice with mozzarella cheese at its center), the potato croquettes, the "olive ascolane" (fried stuffed olives), the fried cod fish, "cacio e pepe" potatoes chips, are only a few of the many appetizer options that you'll find on the menu. To be on the safe side, order a mixed platter so you can taste a little bit of everything. And after those, comes the fantastic pizza. The pizza menu is sure to inspire even the pickiest of pizza eaters. From simple, to more elaborate with many ingredients, there are plenty of combinations for everyone. And rumor has it that the calzone is especially delicious!
Ai Marmi pizzeria is a revolving door so don't expect the waiters to be overly patient and polite. They are there to take your order and bring you your food. Avoid chatting and asking too many questions; they just don't have time for that! But they compensate with efficiency and precision! So make your way there for some delicious croquettes followed by a yummy thin crust pizza.
Make sure to plan where to sleep near Ai Marmi pizzeria here!