Tiramisu at ZUM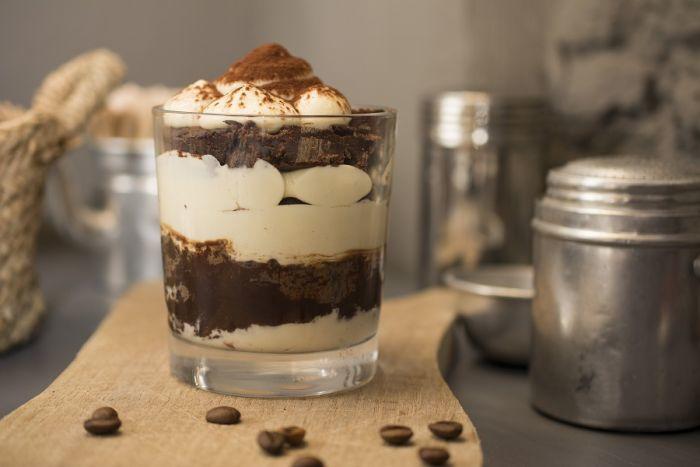 The much-loved tiramisu is quite simply the iconic Italian dessert, and there have long been disputes over which chef in which region of the country has the right to claim credit for the original recipe. There are endless debates regarding the necessary ingredients, method and presentation of this legendary dish, and there are now so many versions of the classic that it is difficult to actually identify what makes a really great tiramisu.
However, there is one place in Rome that has dedicated itself 100% to the mission of creating the perfect version of this dessert. ZUM specialises in everything tiramisu-related, and whether you want to eat their delicious concoctions from a tub, frozen on a stick, or as a sandwich, there is something for every fan of this iconic sweet.
The concept is simple and beautifully executed: a rotation of four flavours that changes based on seasonally available ingredients such as fresh fruit. The staple is the classico, a skilfully balanced mix of coffee soaked sponge and creamy mascarpone with a sweet marsala kick, but our current favourite is the delicious seasonal strawberry version. Layers of sponge soaked in strawberry cream alternate with fresh berries and mascarpone to create a light and tasty summer dessert, a must-have alternative to gelato! Other alternatives include a sweet gianduia-based tiramisu that is a must for fans of the chocolate spread Nutella, and the more adult version lifted by a kick of rum. Open until late, this is the perfect pitstop for a romantic evening dessert or to satisfy a sweet craving during an afternoon stroll, and the friendly staff are happy to explain everything. Those with allergies are also provided for, with lactose and gluten-free versions of the pudding available, and there is clear information provided regarding nut allergies, too.
Address: Piazza del Teatro di Pompeo 20
Opening Hours: Sunday to Thursday from 11 am – 11.30 pm, and Friday to Saturday from 11 am – 1 am
Facebook: ZUM Roma