Trastevere Da Enzo al 29 restaurant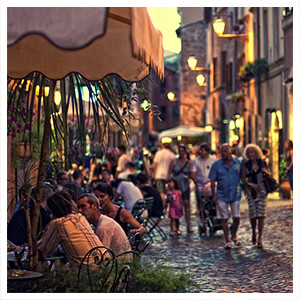 When vacationing in Rome, Trastevere Da Enzo al 29 restaurant should be up there on your "to do" list. Or rather on your "to eat" list. You need one of those in Rome! It is located just a couple of minutes walking from Ponte Cestio, the bridge that leads to the Tiber Island. More precisely, you'll find this wonderful eatery at Via dei Vascellari, 29, open every day except for Sundays.
A quality restaurant in the heart of Trastevere
Trastevere is a neighborhood that has no shortage of amazing restaurants. In fact, it is almost impossible for a restaurant to remain open unless the food is spectacular! Needless to say, the level of quality of restaurants here is extremely high. And even higher yet, is that of Da Enzo al 29. Here, every single thing on the menu is made with ingredients that are bought daily by the owners of this small family run business. They value quality, freshness and locally produced ingredients… and it shows! This combination makes for every dish to be absolutely succulent.
At Trastevere Da Enzo al 29 restaurant, the menu is quite simple: you'll find only Roman specialties. Every day, they offer a different plate of "pasta of the day". You shouldn't miss the "Caprese salad with buffalo cheese" and the "Jewish style artichokes", both will leave you longing for more. Following that, any first or second course on the menu is an excellent choice. Let the waiter know what you are craving and they'll be sure to recommend exactly the thing you wanted. And finally, desserts are truly a treat! The gelato and the various cakes and pies are all home made.
If you're spending the day in Trastevere Da Enzo al 29 restaurant deserves a call and a reservation. Don't forget to mark this number as finding a table without reserving first may be a bit of a feat: (+39) 06 58 12 260.
Make sure to check out where to sleep near Trastevere Da Enzo al 29 restaurant here!