Craft Beers: Ma Che Siete Venuti A Fà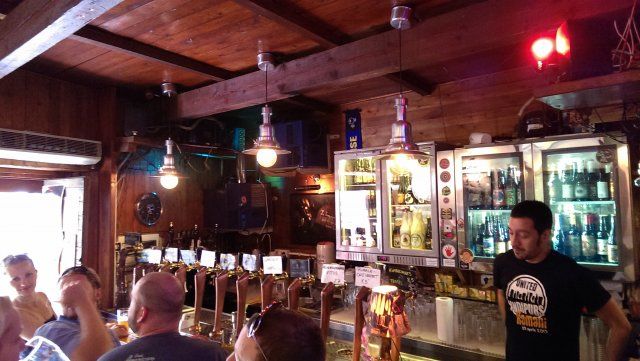 Craft Beers for those tired of wine!
"Ma Che Siete Venuti A Fà'" is a small birreria – Italian for the place that serves beers – located in the heart of Trastevere. While exploring the neighborhood, you probably pass by it several times without much thought, as all you can see in the day-time is a small door with a guy or two sitting on the bar chair outside sipping on a glass of beer, and at night just a bunch of people crowding around waiting for their turn to get their share of the cold one. It's easy to miss, but beer lovers will be rewarded if they find their way here, as the selection of craft beers on tap is always impressive and always changing at Ma Che Siete Venuti A Fà.  The name translates from Roman to "But what did you come here for?", and you will very quickly answer to that – to try that wonderful selection of draft beers!
The inside space is small, but most of the time you will be able to find a seat inside, as usually beer drinkers prefer to gather with their glasses and communicate outside on the street. To the right side from the entrance you will find the board with the weekly changing selection of artisan and craft beers from Italy and beyond, most of the time besides Italian also German, Belgian, English, Scottish draft beers are available. You can choose your preferred drink in two sizes, a smaller piccola (0.2L) and a bigger media (0.4L), but in any case we suggest you to take a proper glass instead of the plastic cup – this way you will immediately earn the respect of the bartender and get the best service possible. Why? Here they take beer drinking process very seriously and invite you to do the same. Ma Che Siete Venuti A Fà mainly serves handmade, craft beers. To serve the beer in its best conditions, the special care is primarily taken of the tap plant – it is maintained with dedication and cleaned with the appropriate cleaning fluid in a timely manner to avoid the collection of yeast. Also the tapping is done with great care – every beer has its own glass shape, which lets you appreciate best the aroma and taste of the specific brew. But also the right amount of froth is utterly important, so don't be shocked if your beer will take a few minutes to arrive – the bartender did not forget you, but just wants you to experience the beer at its best!
Should you want to go for a beer before or after dinner, or even at lunch time, or – who knows? – you would like a refreshing cold glass in the midday summer heat – Ma Che Siete Venuti A Fà will welcome you every single day from 11AM to 2AM. Absolutely recommended to all beer lovers and to anyone who needs a change from the Italian wine!
Make sure to check the selection of apartments in Trastevere next to this craft beers place!