Caffe Sant'Eustachio coffee shop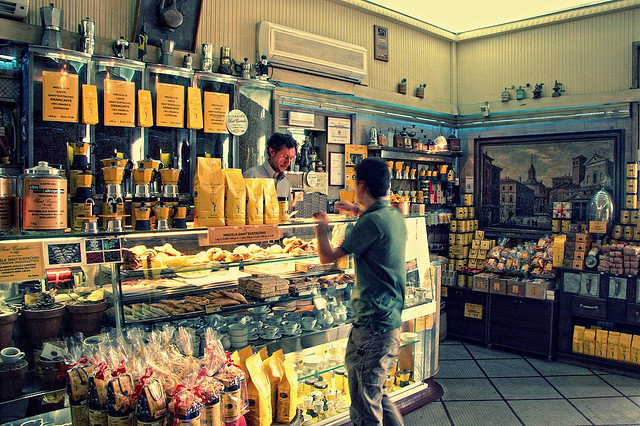 A coffee shop can be found around every corner in Rome. There is really no shortage of places that make a rich cup of coffee. Being an important part of the average Roman's daily routine, it's no surprise the level of quality is quite high in even the most simple unsuspecting places. But when in Rome, especially for a short length of time, you need to get straight to the point. And when talking about coffee "getting to the point", means getting to the Caffe Sant'Eustachio coffee shop.
Heaven in a cup…
Located a short stroll from the Pantheon, on the square by the same name, Piazza di Sant'Eustachio, this bar (Italian for coffee shop) is sure to impress even the pickiest of coffee drinkers. In operation since 1938, they make their own blend, which to this day, is kept a secret. In fact, not much has changed since they opened their little coffee heaven; even most of the interior space has remained the same. Also, to make matters even more secretive, you'll notice that a perfectly positioned aluminum plate hides the barista (barman) behind the coffee machine while he is concocting the perfect cup. The Sant'Eustachio coffee shop makes sure that their creamy coffee goodness remains an unsolved mystery for a long time.
Your first visit will be a bit of an adventure. Depending on what time you arrive, you are most likely to find a mess of people. If you want to avoid long waiting times and impatient locals, it's best you skip the morning and the after lunch crowd. And remember that if you don't want sugar in the your coffee, you'll have to voice your request! The default cup at Caffe Sant'Eustachio coffee shop comes nice and sweetened. While there are other great options for your morning cappuccino around the city center, the stag with the cross between its horns (caffe Sant'Eustachio's logo) probably makes one of the best cups around.
Make sure to check out where to sleep near the Caffe Sant'Eustachio coffee shop here!